Had a fantastic time with my few absolutely great friends last night!! ;)
Serene's birthday surprise was a huge success too ! :D
Mundane mood :
ON
Day started off pretty crappy. But I've decided to just try my luck. ;) Spent the whole afternoon at home doing nothing productive and started to prepare myself before heading out in the evening.
Guess who.
On the way to meet Jolene, Cindy, Gary, Soohou and Samuel... :D
Mum and sis went shopping in town while dad went for some massage leaving me to meet Jolene at Orchard. Cindy and her friend came by shortly before we headed to Wheelock's Place to wait for Gary Soohou and Samuel.
Long walk to the
pub
after gathering. Settled down and waited for Serene's grand arrival. By the time we reach, Serene's poly friends were already there.
Gary and Samuel.
Jolene and Soohou.
End up entertaining ourselves with lame jokes and games from iPhone. Yaping wasn't there with us just yet.
**
Some pictures below are taken by Serene's friends...
**
Arrival of Serene Tan, blindfolded...
Slowly seating her down while we quietly get ready our party poppers!
:)
Exclaiming: "
Eh! Why are you here?
"
For you confused people; Serene was made disappointed- having screwed up plans and many many problems... So, she was shocked and surprised. :)
Cindy coming in with Birthday cake!
Nearly in tears.
And yeah, she cried. hehe.
Yadah yadah...
Birthday Dares!
One of them; to freak someone out or something. Lol.
Scariest picture of the day!
Next dare: "Are you nervous?" game. Lazy to explain so just ask me if you're interested.
Explaining the rules...
Uploaded this because Gary looks
retarded
funny. Lol.
"Are you nervous?"
Next dare...
Lol.
Hopefully she doesn't kill me for such candid/unglam pictures of her. ;)
This is maybe one of the most..
Eekkkkkkkkkkkkkkk !!!
dares. Lol.
Classic expression. Haha! Looks like the "Scream" movie or something. haha.
Need I say more? :D
Then many commotions and stuff. Serene got her face smashed into her cake.
Wiping cream off Serene's face while protecting herself from getting kissed by her. Haha.
Last random shot of the place.
Us all who were there. :D
We separated.
Met up with my mother and sister.
Got approval to have supper with friends.
Jolene joined me for a ride to the supper place.
(Thanks Dad!)
While Gary, Soohou, Samuel, Yaping and Cheefai took the long way back to Hougang for Supper. ;)
When reaching, Gary texted Jolene and we decide to lie to them saying we're stuck at Orchard with a heavy traffic. Haha! Little did we expect Gary to go: "
Okay, you girls can treat drinks for being late.
"
Since we weren't late at all; we decide to continue lying to them. "
Latecomers to treat drinks!!
" HAHA! They were happily sitting in McDonalds while we patiently waited for them at the agreed location.
Non-latecomers... :D
The latecomers! Lol. The guys were pretty uncle please.
They ran to settle down because they didn't wanna treat. LOL.
When did they get influenced by Budget Tan? =x Lol.
Anyhow, we didn't really do any treats at the end of supper.
But then again;
THANK YOU

WEISHAN

FOR THE DRINK!
Gary's twitpic.
Soohou took over the camera~~~
Food finally came for the hungry-s~~~ Took a really long time!
While waiting.
The battle to win in "Tap Of War"
(TOW)
started.
All thanks to Weishan. Lol.
Food arrival~~
=x
Next couple playing
TOW
~~~
Jolene was really noisy when she was playing
TOW
but little did we expect Gary to be as noisy as her la! Lol.
Yaping and Cheefai left early while we continue to sweat like it was raining. =.= Soon decides to move on to a cooling place nearby...
Before heading down to McDonald; we called for bill. But, instead of coming to us straight the person in-charge changed his course and headed further suddenly speaking loudly in tamil. I have no idea why but I laughed (pretty loudly) and the rest all follow suit before we automatically look at Weishan asking for translation. LOL! More of; we were stunned by the person who suddenly had a 360degree change uh.
It was a bit embarrassing because, yeah - I was loud and we might all be deemed as racist. xD But it's okay, even so- it'll mean all of us not just me. HAHA!
Continual of
TOW
~~
More
TOW
!!!
Seriously, never ending. Lol.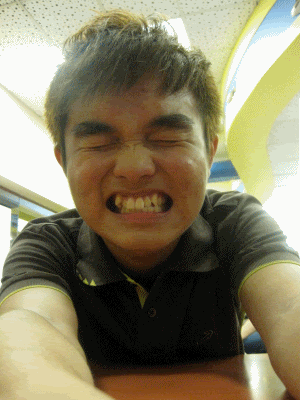 Ugly cam-whoring. Lol...
He got so bored with us being more engrossed in playing games; started polluting my camera...
TOW
is a really nice game luh...
Our favourite, 10 shots!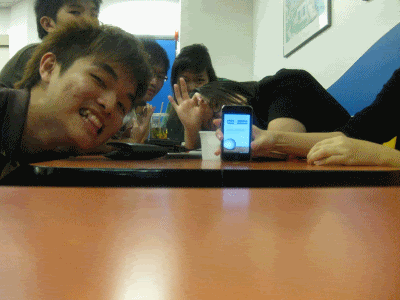 Evidence of how huge Gary head is to actually block Samuel and Soohou at the back. Haha.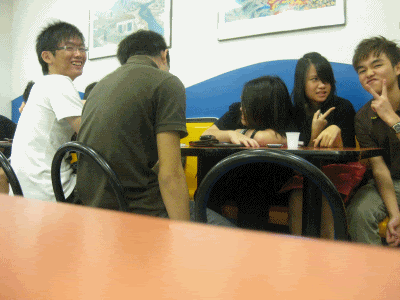 Pay attention to Soohou yawning, Jolene disappeared laughing her tummy off and me looking at her. Haha!
See Soohou! Lol.
Jolene bursting into laughters! Lol.
Distracting us all except Gary and Weishan. LOL.
"
Why?
"
"
Soohou la! Yawn when the self-timer was on..
"
"
Tired cannot meh?
"
"
Where got people yawn during photoshoot one???
"
LOL! Similar conversation occurred when I asked Jolene why she was laughing so hard! Lol.
Taking pictures without Weishan and I knowing!! :@ Lol.
Even Samuel joined them! Lol.
Regarding the yawning issue~ Here is Soohou's claim...
He said something like... there should be a difference when taking pictures at night and during the day...
Night time.
Day time...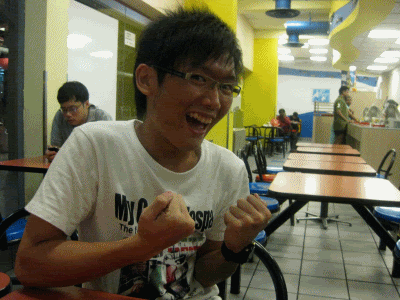 LOL! Really joker`
Looks like he's carrying some weight yeah? Lol.
So, we chilled, slacked and stayed at the place till... 1:40AM? Haha.
I am so happy that my mother actually allowed me to stay out wayyyyyy after my curfew. Though it's somewhere near la. But still, I am extremely appreciative and thankful. Hehe.
Reached home at 2AM sharp~ :D
Gary is so pretty !
Till here.
Gawwwd ! I hope they stop quarrelling over the slightest and most minor things. =.= I'm not annoyed, irritated or frustrated by them. But, it just scares me... It's really not fun at all watching them argue about stupid things almost daily... I won't side anyone because I think they are most of the time both at fault. Getting old along with the reduced tolerance. Sigh. *Please stop all these nonsense...