*tadaaaah*
Hi all! &I'm back at this again...
(Date check: 12 September 2016) hehe
Work has been hectic, and all I wanna do is sleep when I can. Or watch TV. :p This week has been exceptionally great though, because I only came home - no gym or meetups after work. Which is good. Spent my time scrolling through people's updates in various social media. Instagram, Instagram Stories, Snapchat, Facebook. Seriously, that takes up so much of my time already!!! Kindda waste of time, to be honest. :X
Annnd, I digressed!
Here's our 4th day in Perth! A beautiful day, mostly spent sightseeing and doing what tourists do,
duh
.
We visited 3 places and started the day very early traveling ALL THE WAY BACK FROM PERTH TO BUSSELTON!!!
Thanks to our accommodation slip-up. Have you read about it? (
Here
, at the end of the entry. Pfft)
It takes approximately 2.5 hours to drive down, and we had to be there at 10am. T_T Woke up early and left our place slightly before 8am. Brought all our luggage along too, because there were no space for us to keep them for the day at our accommodation even though we were just shifting to the unit upstairs.
After Busselton, we thought "
Why not go all the way down again to check out Voyager Estate X?
". Which we did, and then went further down again to watch the sunset at Hamelin Bay
X
. It was very serene and the sea was freaking clear! Loved it.
Just us going up and down, imagine all the time spent on the road.. Going all the way down, and then up and then back down again. Very unnecessary! I would draw the lines on Google map and show it here, but
nah
I'm lazy. :X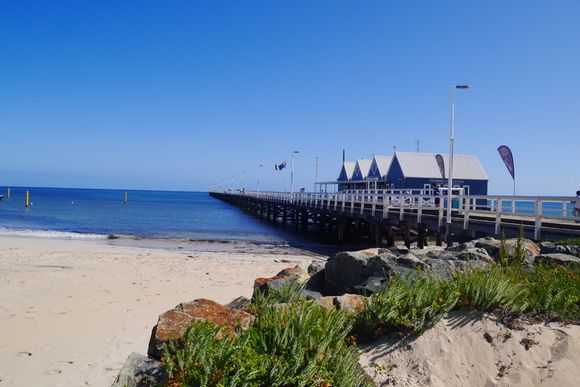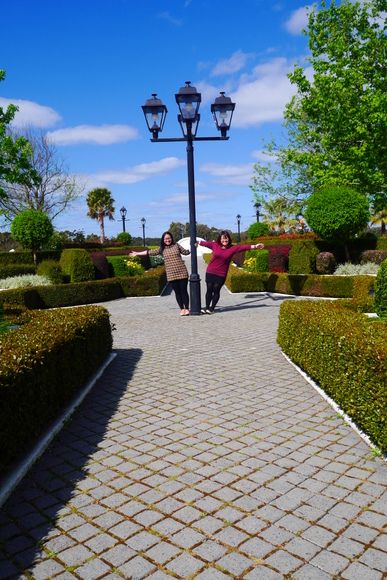 Ⓗ

Ⓙ

8 Days In Western Australia - Day 4:
Busselton Jetty, Voyager Estate Winery and Hamelin Bay
Arrival + Day 1: Magaret River, Winery and Chocolate
Day 2: Jewel Cave, Lighthouses and Sugarloaf
Day 3: Movie, Animals and Almost Homeless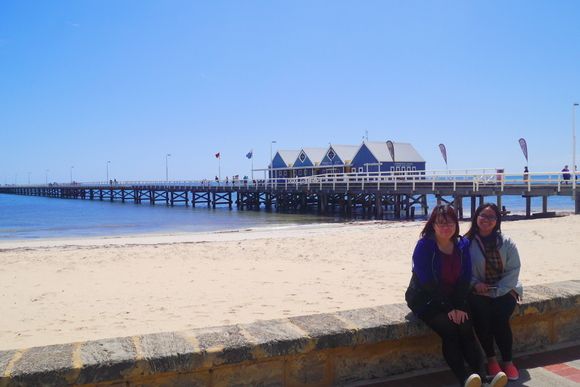 First up, Busselton Jetty!
Busselton Town is relatively small and pretty peaceful (for that 2 days we were there). Haniza and I loved our experience there. People were all nice and very welcoming. We caught 'The Martian' at this town too. Busselton Jetty is just slightly further down, I think another 30 minutes drive or so.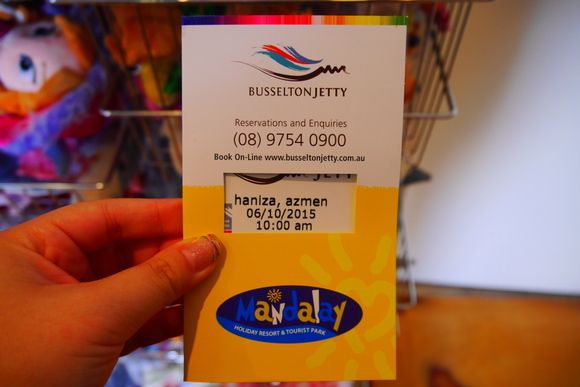 Busselton Jetty Underwater Observatory X
Said to have taken 10 years to plan and fund for the attraction. :O It's pretty amazing, albeit a small and simple attraction - It goes down 8 meters under water!
This was the attraction I've mentioned in my previous entry that was closed for a day due to the 'bad' weather (it was just windy, making the ocean a little choppy). We booked the slots for 10am the next day over the phone and reached early to collect our tickets.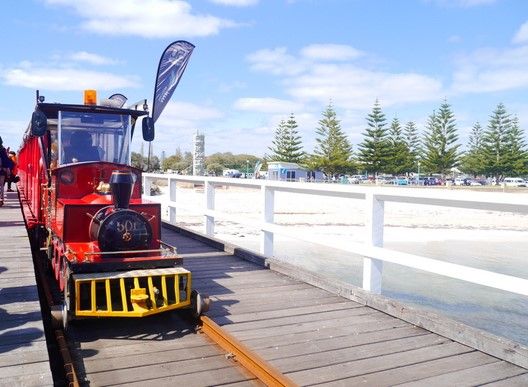 Our transport to the end of the jetty : A choo choo train!
Not a literal one of course.

It was very slow.. We could have just walked. Really. We walked back to the start when we were done with the attraction. Lol. It was a lot nicer walking. The train had these plastic blinds rolled down. Such a waste.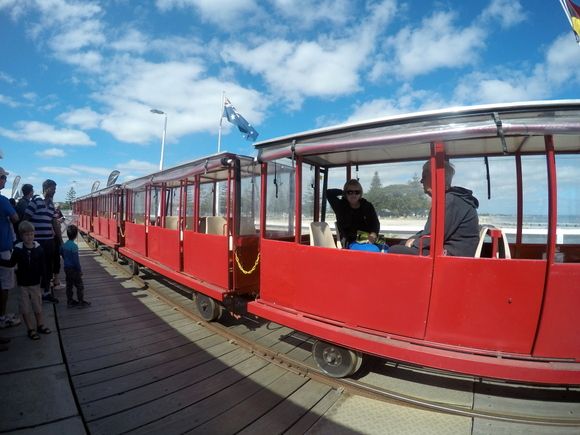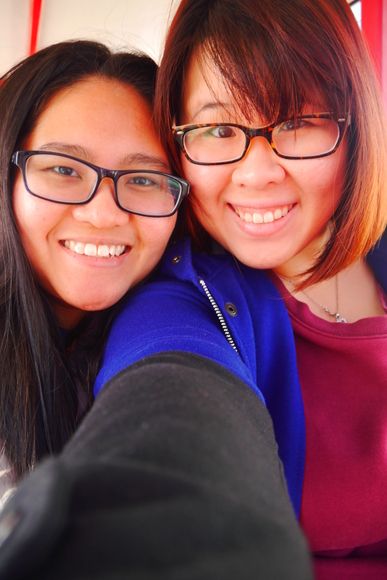 We're on it!



See what I mean.... Didn't take any nice pictures on the way there.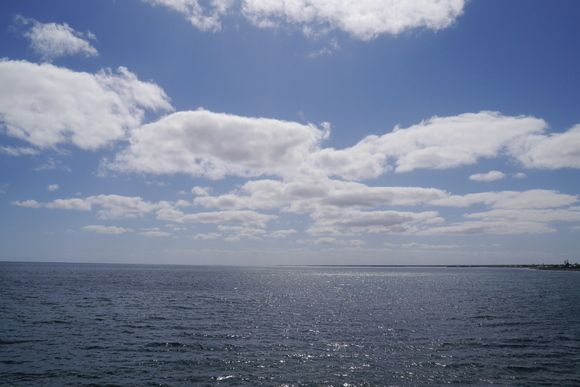 Good weather for the attraction!
Calm water.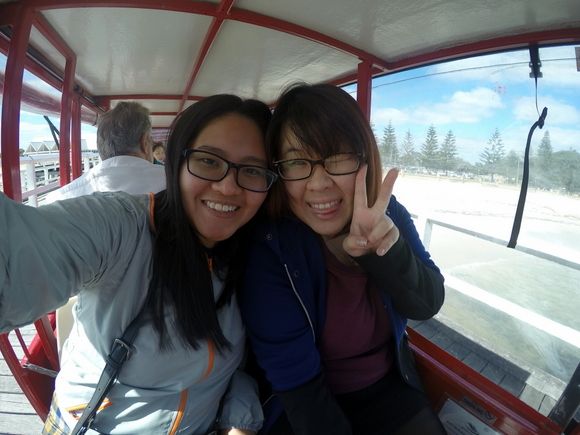 Choo choo.... *crawls*
I think it took us about 10 minutes to reach the end on this train.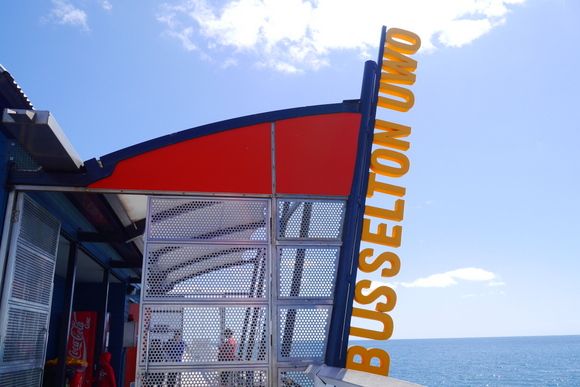 When we arrived, we gathered in their gift shop and waited until everyone is in before being led down a spiral stairs..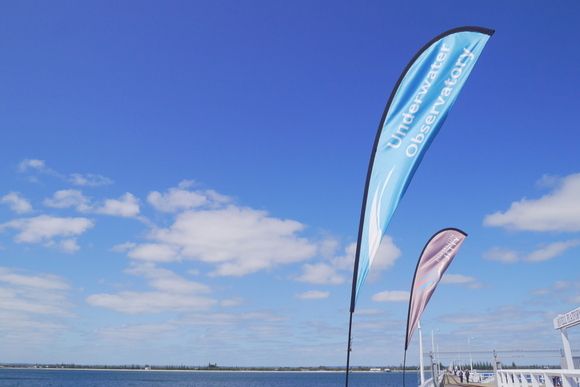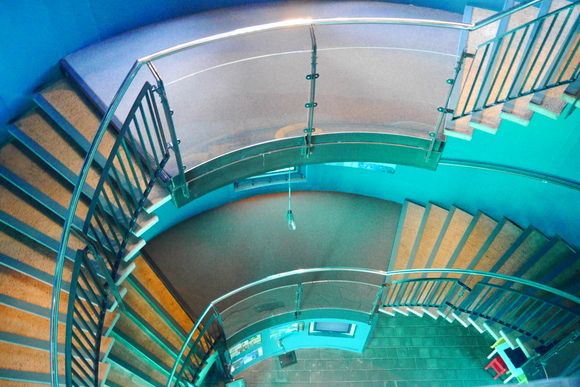 And we're in! Just kept walking down. It's pretty cool.
I wonder how they built this. Same for the caves - how they discovered and then construct it for visitors.
How did the people manage to build an attraction down into the water?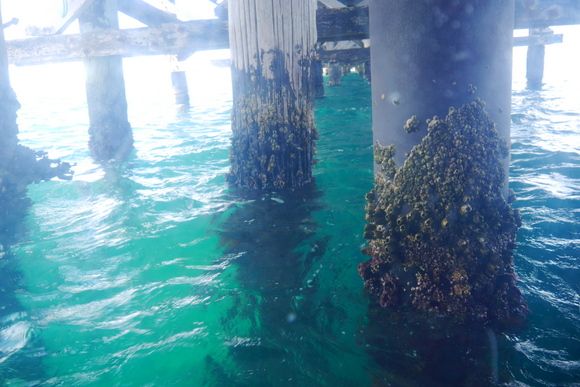 Almost at the water level!
The sea is so clear, it's amazing!

I don't like barnacles, by the way. I think they look extremely gross. Especially when they are all clumped near each other. Just ew.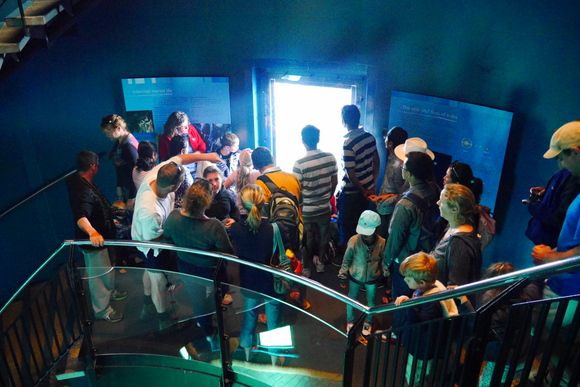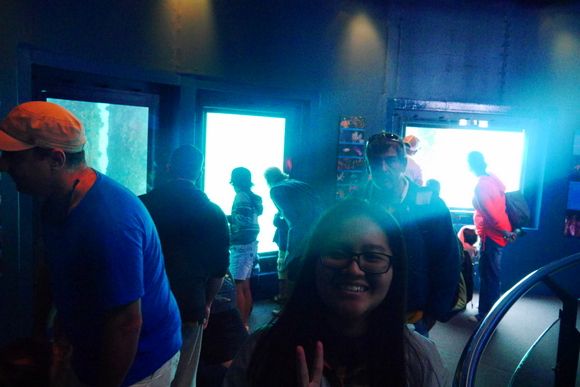 And now, we're under water!!!!! Not.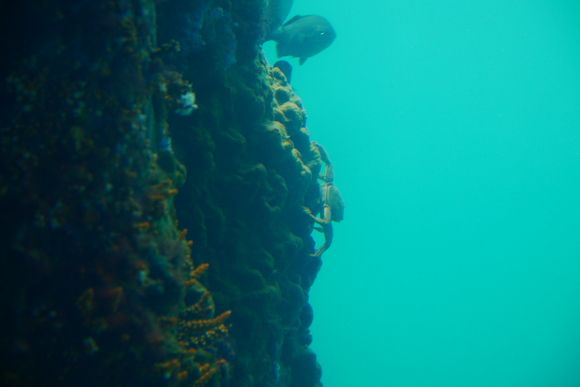 These were au natural.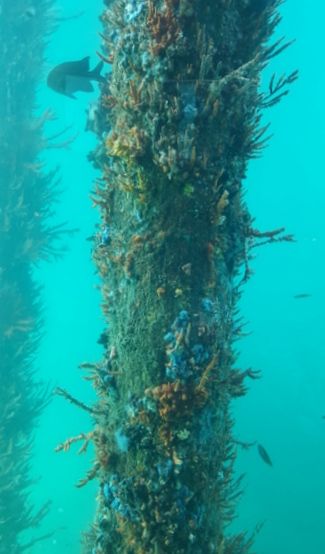 Nothing fancy, but what it really is like underwater.
Unlike those usual sea aquariums we visit, these creatures and plants(?) underwater are less vibrant, but they look as beautiful! Naturally grown into so many different colors!
Annnnnnnd, that's all to it. :) It was a simple exhibition, and it took us less than 30 minutes to complete. I'm so glad they were closed the day before, could imagine how it'll look like when it's all murky.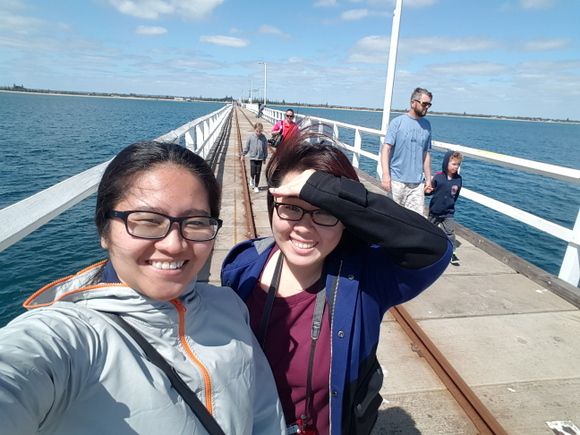 Here's us, out from the attraction. We decide to walk back to the entrance because the weather was nice.

I like Australia's weather. Sunny, but windy! It's slightly dryer there too, not as humid here. Not disgustingly sweaty after a day out. But the UV rays are bad in Australia!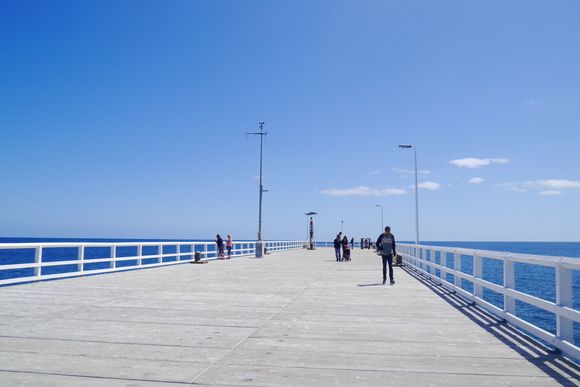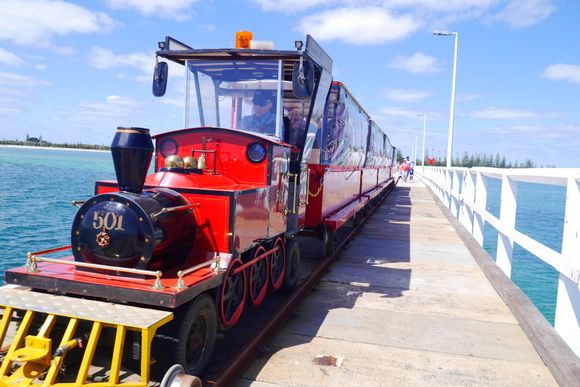 By the way, the track is too narrow for the train to make a U-Turn.
So what the driver does is disconnect the 'head' and drive just that portion to the other end. Then viola! It moves backwards now. Lol.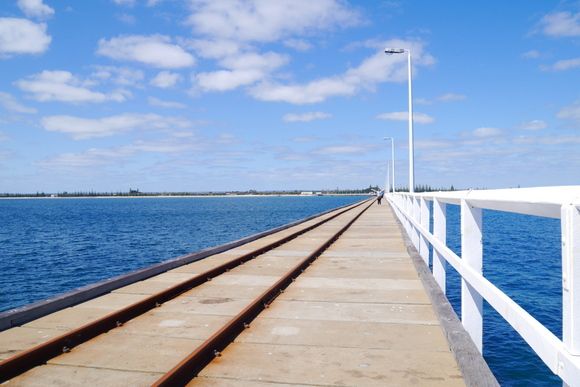 Spot tiny Haniza!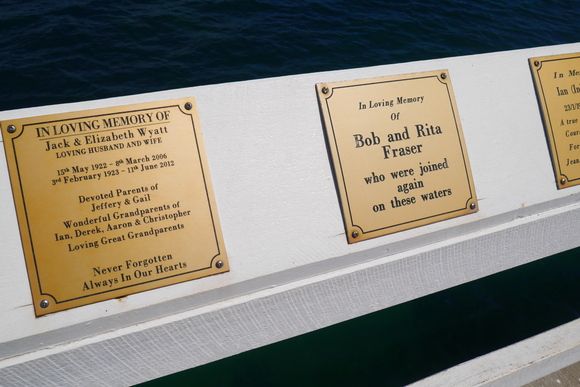 Along the jetty, there were many messages on these plates.
I read some... It's quite interesting that people have these outlets to remember their loved ones. Not the usual love lockets and such.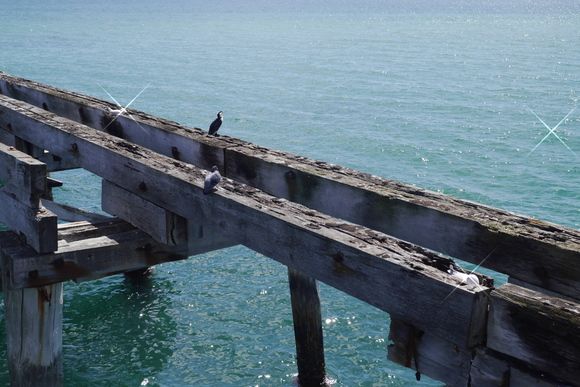 One thing I dislike about Australia is their............ houseflies!!!! They are so rude?! They don't seem to be afraid of humans and would just FLY STRAIGHT TO YOUR FACE!! Like, what the heck?! I don't think we are
that
small for them to not see us and fly straight towards to. SO RUDE!! Get yourself away from our faces!!! And it's disgusting. We kept getting houseflies coming straight at our faces at this location, and then later again when we're out Penguin and Whale sighting. TSK. Have never met such rude houseflies before! We were so annoyed.
I like it's kindda funny how I'm saying these flies are rude... But really, it was such a bad experience having flies kissing you on the face every now and then.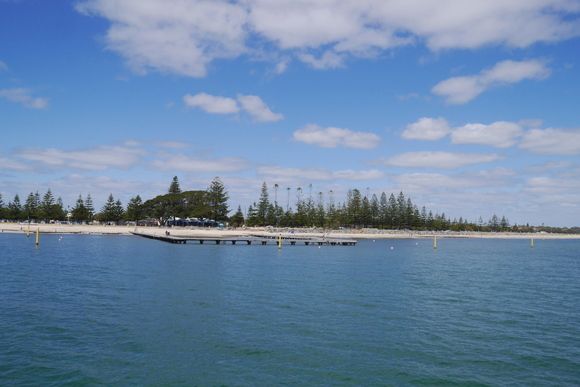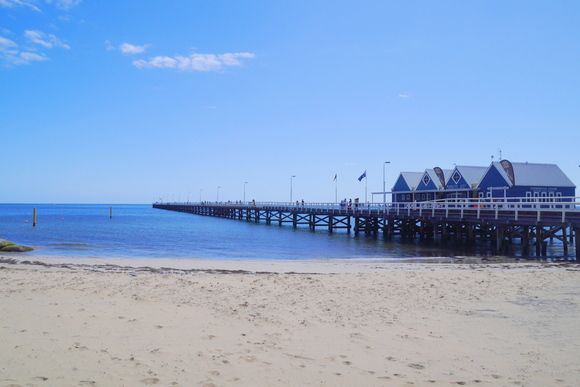 One of my favourite shots! :)
So blue.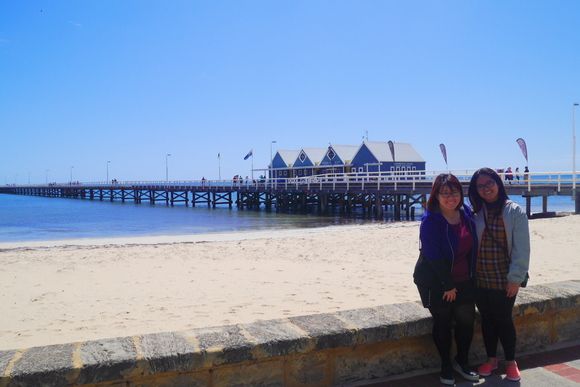 Breakfast that day!
The icecream was very creamy and soft! :D Haniza just took a cone.



Next stop, to have a proper brunch!
A tea-house recommended by local - Our favourite Airbnb hosts suggested for us to try their scones here. Said to be the best, and we weren't disappointed!
The tea-house is relatively small, and this small house you see above was previously an actual court house.


Turned into a mini museum now!

There were quite a number of rooms with small and simple art pieces.


Video! Actually just time-lapse of us walking in. Lol. We also took a video with Haniza's GoPro, but Photobucket says it's too large a file and too long a video to be uploaded. =.=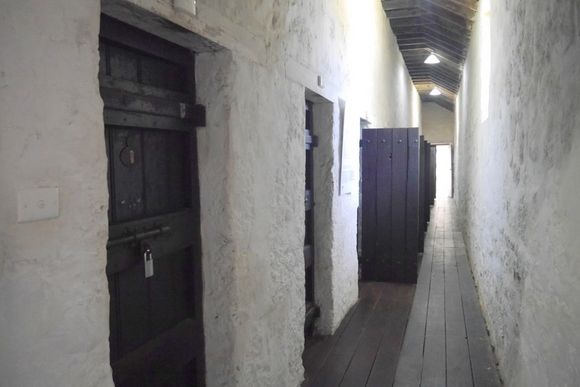 Actual jail cells used back then. Quite eerie. Lol.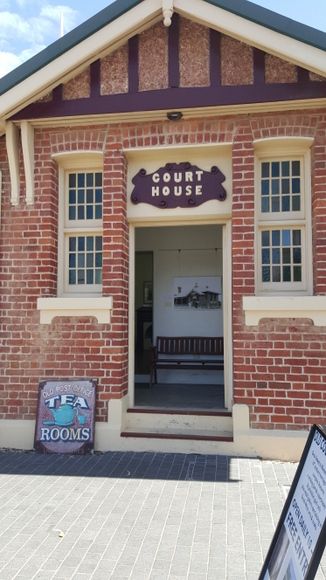 &Back on to brunch.
It was a little challenging to spot this tea-house because it's really not obvious. From the first picture I shared above, you could barely see that small "Tea Rooms" sign. We took at least 2 turns before finally realizing that the 'Court House' we were directed to was this one. The Court House look a little more home-y from the outside than an actual court house.

Our tea!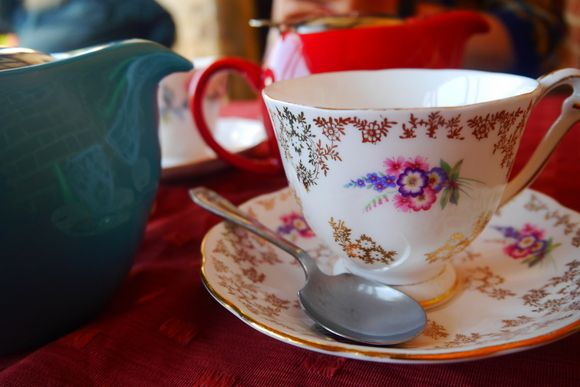 Served in pretty tea-cups.
Looked and felt expensive - Felt like real taitais having tea and enjoying our quiche on a calm afternoon. Lol.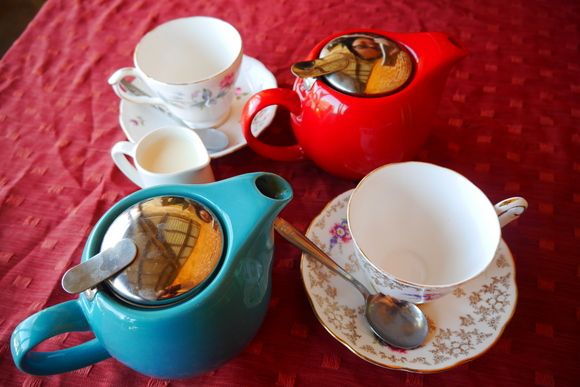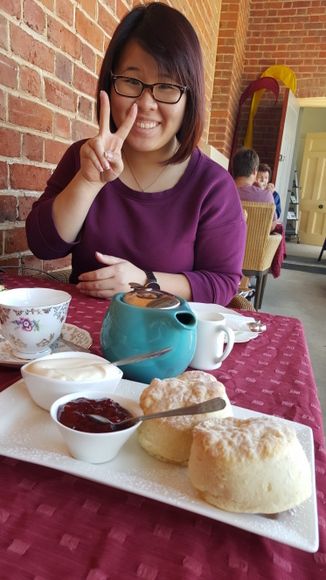 OUR SCONES, SERVED!!!!!
It's a little huge, and it's very dense. Won't say it's the best because of the aftertaste, but we definitely weren't disappointed because they were still good. VERY FILLING!! Because dense... I like the cream! Very light. The strawberry jam was a little too sweet for my liking, but it's okay. MORE CREAM FOR ME! Lol.



Haniza and I loved the Quiche more though. We got the spinach one. Very flavorful and very satisfying!
We kindda regretted ordering 2 scones, because we would so go for 2 quiches instead. Lol.

After brunch, we toured around the Court House (yeah, swapped the sequence) to digest our breakfast before going for a quick grocery shopping and head back on the road.



Hours later~~~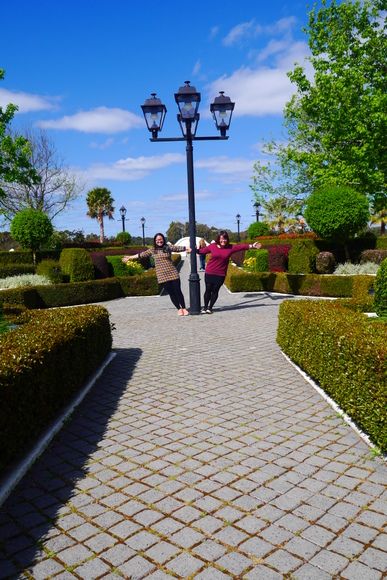 At a gorgeous place!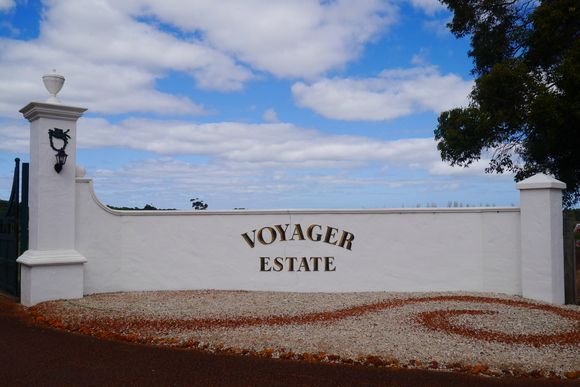 The Voyager Estate! X
We didn't really have a solid plan for the day, so we were pretty much just roaming around. Not literally because the roads are all straight drives. -.- I don't know how Haniza manage to not feel sleepy. I think it's way more challenging to drive on a quiet road. There's nothing on the road except a very long straight...
road
.
Anyway, we visited this winery since it was "on our way" to our next destination. And it was said to be the prettiest winery in Margaret River - So, why not!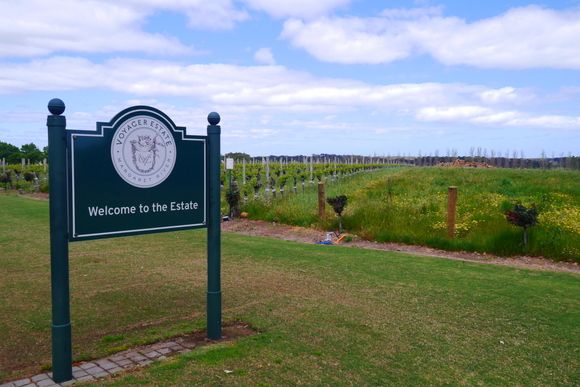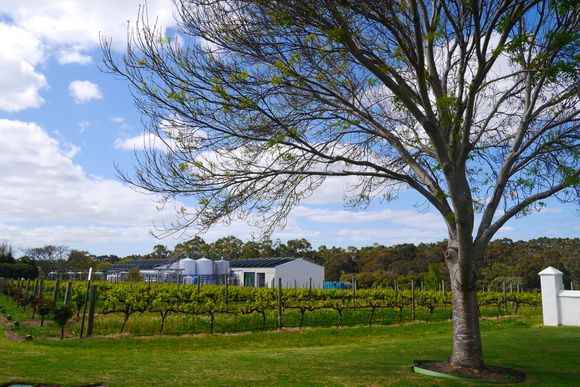 It's a really gorgeous place!! Very nicely decorated by plants! I have no regrets visiting this place! In fact, we didn't even go for any wine tasting here but just roamed around the huge estate!!! There were so many nice scenic places for pictures. Everywhere had a good spot for photos, and it was so quiet and peaceful! There was a crowd in the winery luh - That's why we didn't even bother to head in for some wine tasting.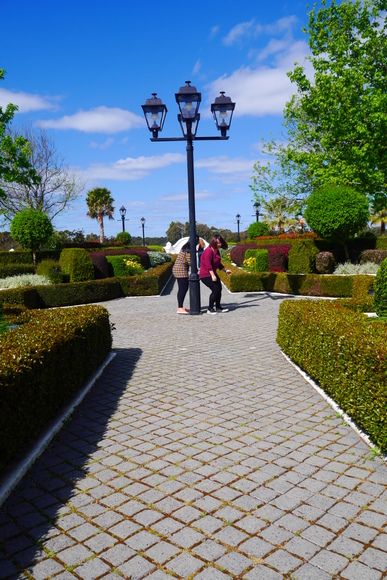 We were just having fun ourselves taking selfies and whatnot. Lol.
It was a very happy and beautiful day.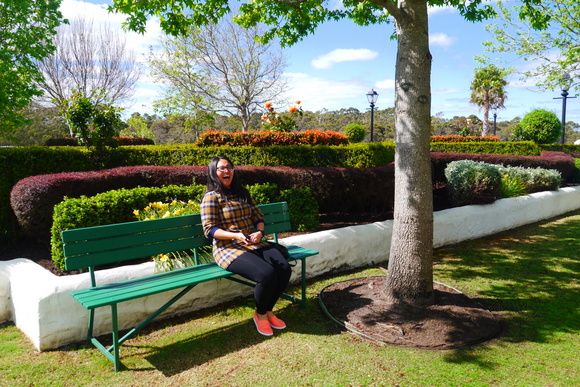 Cutest picture of Haniza this trip!
There were plenty of candid laughing pictures. Hahaha.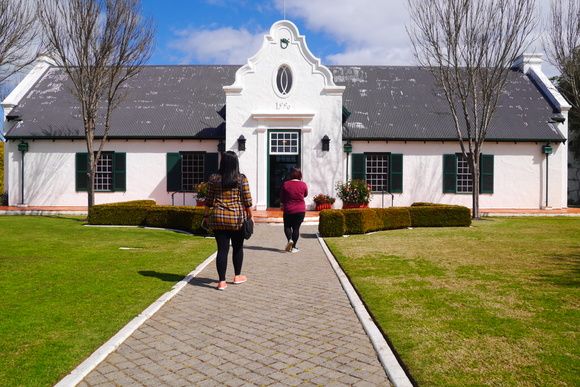 Here's the wine tasting the place.
You probably can't see it from here, but there was a crowd!




IT'S SO AWESOME TO HAVE A TRIPOD! :D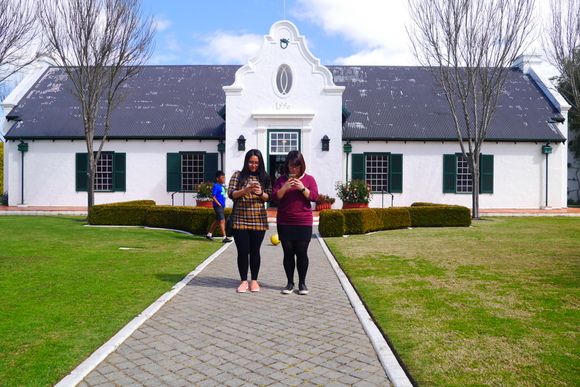 Urg... That photo-bomber.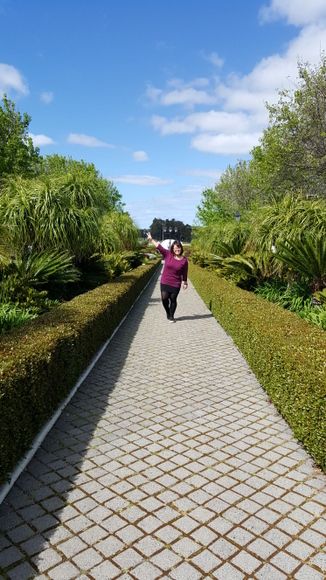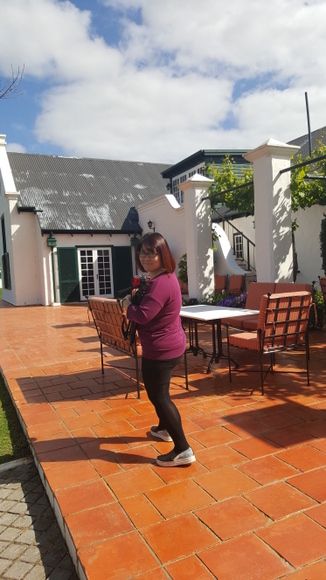 ROSE GARDEN!!!
Smelled so good.

After spending a good hour here, we left the gorgeous place feeling happy and relaxed. We didn't even need the wine to get that. hehe.



Back on the road for another 30 minutes or so.......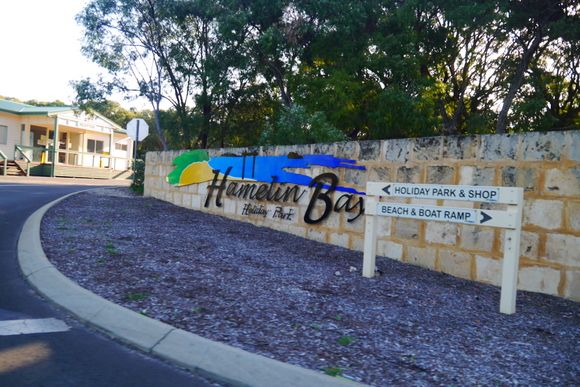 TADAAAAH!!!
Right after this picture was taken, we witnessed a small bushfire.
Though it was breezy and we didn't actually sweat or felt that it was hot when we visited, there were plenty of bushfire reports on the radio! You could also see the ground sizzling when you're driving!
Anyway, we arrived at Hamelin Bay
X
and headed straight to the beach. I'm not sure what else they offer, or how the park actually look like because we didn't have time to check that place out. It was in the evening already and spent the rest of the evening watching the sunset. It was a very cold experience. LOL.
By the time we were done with the sunset, THE SKY WAS DARK!!! There weren't street lamps to aid people back into their cars. We even went to the washroom cubicle together and helped shine lights because their toilets DIDN'T HAVE LIGHTS!!! -.- Still, it was a very serene (and cold) experience because we just sat there watching the sunset.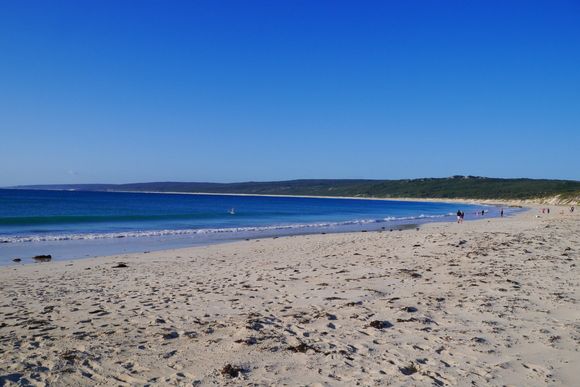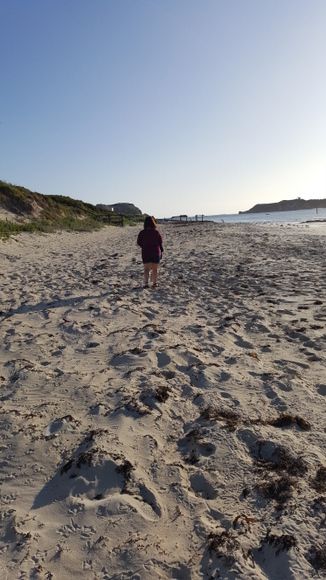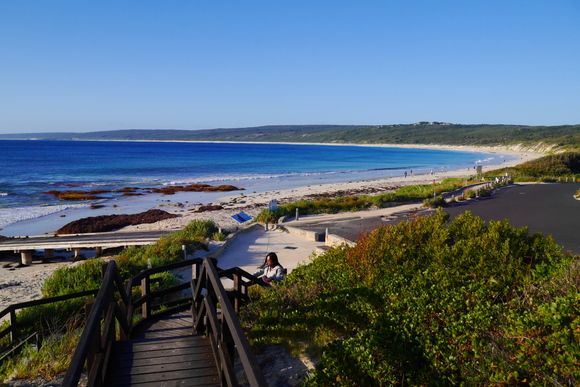 Heading up to read up about the fishes people can spot here!
Not a snorkeling place though.



Here, we're still feeling a little warm. See that I've changed into shorts?
BAD DECISION FOR LATER!!! Lol. I was freezing cold, like what the heck!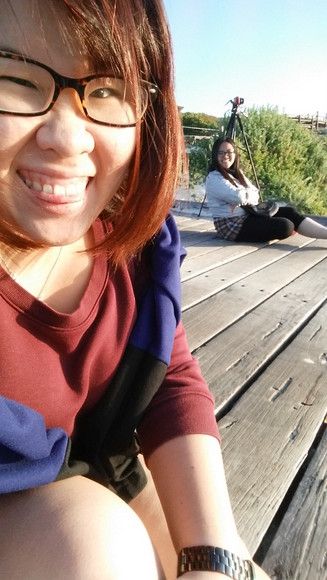 Got ourselves a good spot for sunset pictures!
We did time-lapse. HEHE.
I like how mine turned out to be!

There were also other people who later came by to take pictures of the sunset!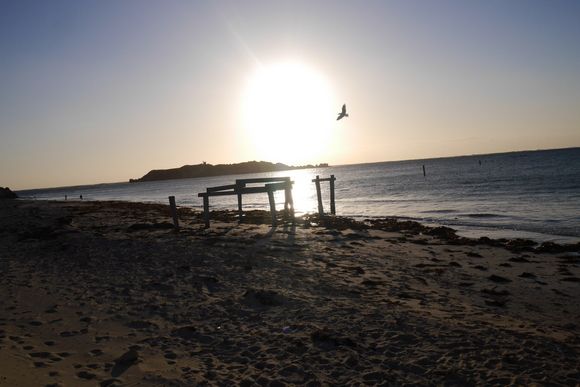 First test shot for 4 seconds!





hehe.



Sunsets are magical!
Here it sets, but rises at another place. So cool.

So here you see how the place darkens... It was a little scary because there were no lights, and we were surrounded by huge long grasses. Lol.



But we got out safe, and went to the toilet before a long ride back. LOL.

We were the only ones at the car-park too. It was dead quiet by the time we figure our way out.




Back at Margaret River and we had some fast-food for dinner - Chicken Treat X !!
On a random note: I like eating with Haniza. Firstly, she eats and we have pretty similar taste. Or rather, I'm easy and eats whatever she eats OR don't eat. Lol. Best thing is, she loves chips and would eat them along with her mains, and I like that! Helps me control my fries intake because I usually eat them last. So if she eats more, I'll get less of the fats. HAHAHAHA.
There weren't a place for you to eat the food, so we ordered takeout and had it in the car before driving off back to Perth. Long drive back to Perth. BACK TO PERTH. Tsk.
So yes, drama the night before because of our accommodation.
But here's how our place for the rest of the night looks like! Took them without considering the lighting because....
meh
lazy. Can't seem to edit them to look brighter too. It looks almost exactly like the Airbnb post (
see here
for better pictures)! Now that I think about it, I should have waited till the morning to snap pictures of the place... Then again, it'll be messed up with our luggage and sleep marks. Lol.
Anyhow, I'm very glad that we only met good people on this trip. Especially for meeting kind hosts! :)


Bedroom.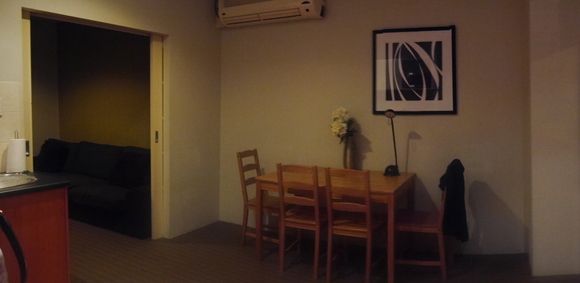 Dining room where we just invade the entire space with our luggages all opened up. Lol.



Living room. We didn't really hangout here. Only for one of our nights where we had dinner and watch TV.
Other times, we just got back home wash up and sleep. Lol.



Andddd, I'm done with Day 4!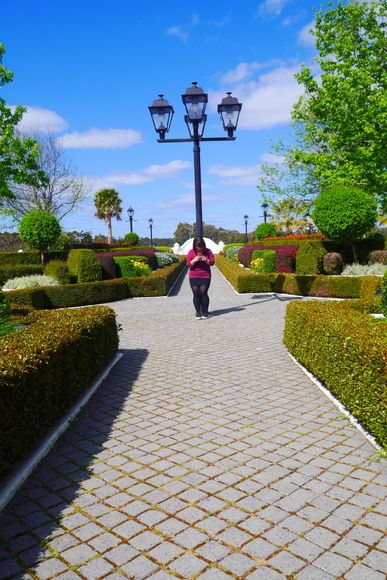 I'LL BE BACK REAL SOON!!! Heh.
Day 5: Whale Sighting, Aqua and Caversham Wildlife Park
Day 6: Cycling & Snorkeling @ Rottnest Island and A Ballet Show
Day 7: Dolphins, Penguin Island and Ciao Italian
Last Day : Kings' Park and Fremantle