I'M BACK HOME FROM YET ANOTHER GREAT DAY !!!
Had an advanced birthday celebration for Weishan and Jolene today over at Sentosa... :D It was really good - sweating, chilling and just having fun with people I absolutely love!!! Picture says it all but I'm going to just do a brief entry... Heh!
Met up with Siyi @ Compass Point to pass her discs before I headed back to Hougang to meet Yaping, Yanling and Weishan. Proceeded to Harbour Front to get some snacks, drinks... and I bought
STACKO
!! After which, tram-ed to Sentosa along with Samuel and Jolene... Kekeke~~
Everything started after we finally found Cindy and Serene. :D Enjoyed our time playing frisbee, captain volley ball, basket volley and... cam-whored. LOL. Chatting too! Hehe...
Dinner over at Trapizza; it was great!! :D Blah, blah then, CAKE! Hohoho...
Okay, PICTURE SPAM!!!
***IF PICTURES/BLOG ENTRY GETS CUT OFF HALFWAY,
CLICK HERE TO VIEW THE INDIVIDUAL ENTRY
. Might help.
Work best with almost all browser except Firefox.
*** Wait for GIFs to finish loading~~
I can't be really bothered to sort all the pictures out so I practically uploaded half of what was taken with my camera today. :D Ermmmmmm.... I'm so glad today's uploading took pretty fast. A hundred +++ within like.. 1 and a 1/2 hour! :D Love it!
This site's uploader totally screw the resolution of my images. =.= So annoying!
On the way to meet Cindy and Serene with them...
and them... :D
Yaping is damn cute only! Lol.
Brought her soft toys who looked lonely at home. HAHA! Aigooo, cute!
Weishan & Jolene...
On the way...
Yaping shooting her soft toy in her hat. Lol.
Grand arrival~
Jolene and Yanling.
Yanling and shanshan.
FRISBEE UP FIRST!
4 VS. 4~
Team 1.
Team 2, including myself.
Challenging to take pictures and play at the same time. Lol.
Serene... ? Lol.
Nice one? Lol.
Ugly pose. Lol.
No idea what's with Cindy. Lol.
Serene's really good at standing at one spot and catching almost all disc that comes to her. :@
These two decides to play something else.
Change team~
Gary walking in from far behind...
Definitely having fun under the sun!
Some food we had...
Me and my plaster
"clip"
No idea what this girl is doing!
STACKO!
Weishan started with the stun. Lol.
Pingpong and shanshan
We never fail to scream when the thing topples. Lol.
Captain Volley Ball next~
Drawing line???? Lol.
Initially wanted to play volley ball but the ball was too hard.
Playing and taking shots sure is challenging but damn fun.
At least I did great. ;)
Tired bunch.
Weishan says it looks like those take ease fever. -.- Lol.
Not suitable for hats. :S
Who suits the hat most? :D
*pinch nose*
Running from afar with her scarf! lol.
MY LEFT EYE. ! -.-
Pretty life guard for the day!
Holding the island.
Picking up the tree...
Basket volley ball~~
Clearing up...
... Didn't know I actually uploaded this stupid picture. -.-
Waste my space. :(
Seem so familiar... Like NDP celebration in school back then. LOL.
Cleared up and headed to restroom to wash up.
We took ages. :D
Outside the wash room.
Walking back to Trapizzaaaaaaaaaaaaaaa ~
Big face. -.-
FOODDDDDDDDDDDDDDDDDDDDD !! Awesome..
O.M.G
Geez~ Double O.M.G~ Lol.
Cam-whoring~~
No idea what's with Weishan holding up that hat... Lol.
"Birthday Girl" and I.
Saranghaeyo... ~~
"Birthday Girl" and I again~~~ Hehe...
*with no noise*
"I love you"... ;)
Trying to hide something... hmmmmm~
Usual chilling while...
Cake was prepared by Cindy and Serene~
Candles keep blowing off. :S
Jolene:
"Yeah! Got cake to eat liao..."
Photographer 1...
Photographer 2...
In total, we had 4 photographers for the day ! Lol.
Weishan and myself too. ;)
We can never get enough of that. :D
Birthday Girls!
HOPE YOU ENJOYED AND LOVED TODAY...
LET'S GO TO SENTOSA MORE OFTEN. hehehe.
(See you two days later!)
Girls~ Next three from Serene's camera~
What a huge difference from a normal digital and a DSLR. :S
Ahhhhhhhhhh ~ Group photo. Love these people. :D
This is a fabulous cake! :D
Gary-goon, neomu babo!
Lol.
aish!
What happened to this picture? :'(
My 4th victim? HAHA! I was boredddddddddddd. xD
Revenge for Serene. HAHA!
... but choo~ CO!
Ugly "hairstylist" and Yanling~!
Because Soohou was waiting back at vivo. We quickly headed back to meet him...
In the tram~
Cannot miss out; 10 continual shots!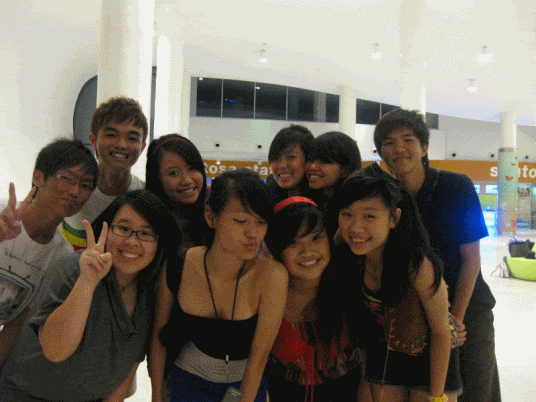 GIF! Serene looks funny...
Got pushed to the front. :S
Last photo before Serene left and we stayed back at the area to play Stacko.
What a good time together. :D
LOL~
We were loud + there were echo = Embarrassing but damn fun!
Wrapped up and headed back home. :D
One side...
And the other...
Alrighty! I'm finally done!
A total of 180 photos. LOL! I'm so proud of myself and blogger today. xD
FAVOURITE PICTURES UP AHEAD!

Love them! Love them! Love them! Love them! Love them! Love them! Love them!
Do-Re-Mi-Fa, DO~~~ =.=
She moved and I kissed JUST A LITTE. :D
Nice right right right right right?
I love these two too... Kekeke.
BFFs~
THE BEACHHHHHHHHHHHHHHHHHHHHH !
I love you guys.
(And Soohou, Lance, Ivy, Chiule...)
Timecheck : 3:19AM.
Need sleep. night.
Bonus...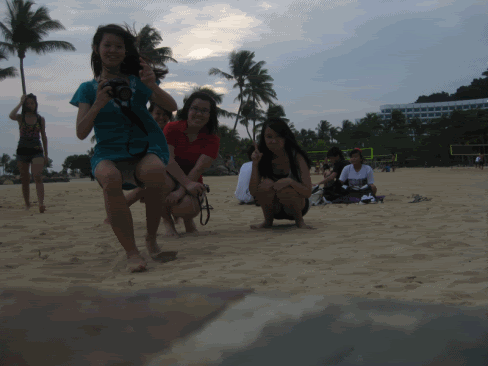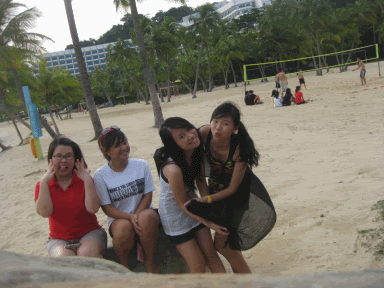 Whole album in FB, click here...~~~ :D
FAILED. Stay tune for updated link.
Till here folks!