Ⓗ

Ⓙ

8 Days In Western Australia - Day 6:
Cycling & Snorkeling @ Rottnest Island and 'Sleeping Beauty' Ballet Show
Arrival + Day 1: Magaret River, Winery and Chocolate
Day 2: Jewel Cave, Lighthouses and Sugarloaf
Day 3: Movie, Animals and Almost Homeless
Day 4: Busselton Jetty, Voyager Estate Winery and Hamelin Bay
Day 5: Whale Sighting, Aqua and Caversham Wildlife Park
A mini vacation amidst our holiday.
That's what I'll describe our 6th day in Western Australia was like. Does that make any sense? Lol. It really did felt like a short break from our vacation. Quite amazing.
We spent half our day in Rottnest Island..... It's a gorgeous place and I love it there! If I knew there were resorts around the island, I would have totally suggested to stay a night! We were there for less than 6 hours... Managed to only get on the 10am ferry down and the last ferry departs Rottnest Island quite early, at 4:30pm. Would have been great if we stayed a night.
The resort area reminded me of our chalets at Pasir Ris or East Coast Park. Near the calming sea with other small
houses
, but many times more beautiful!

Us, at the beautiful beautiful Rottnest Island.
So breezy. Water so crystal clear and sceneries so postcard-worthy!

Here, we cycled and explored nature.

The island is pretty huge. Though we were there for half a day, I don't think we covered every part of the island.... Bummer.

Oh ya...

WE ALSO SNORKELED!!!

MY FIRST TIME EVER!!!



CHECK OUT THE WATER!!!

Practically can see anything and everything under water.

IT'S AMAZING!!!

A very good first experience though I drank quite a bit of sea water while learning to breathe with the mask.



&Here's how our day went.......... (Including our ballet show at night! ♥)



I cannot understand how 'C' and 'A' could sound like 'S' and 'E'...
But, for a day, I was 'SHUE'. However you're suppose to pronounce that. Lol.
Anyway, that's our ferry boarding passes and bike rental tickets. Very good idea to get the bikes for going around the island. I definitely won't be able to walk that much.

Before a day of exploration, we shared a hearty breakfast at a cozy cafe in Hillarys.
This cafe has many mismatches, different style of chairs, tables and decorations around.

I was feeling very sluggish this morning... Only wanted to stone and not move much. Lol.

And then we boarded the ferry.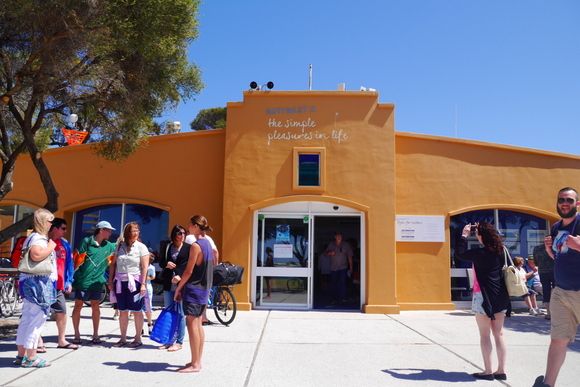 Arrived in 20 minutes!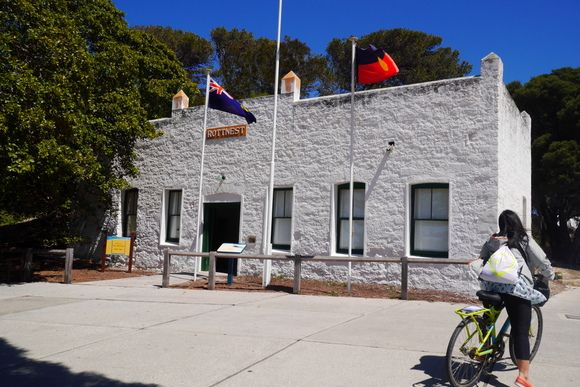 Setting off...
I was very excited while exploring Rottnest Island! They say we'll get to spot many wild quokkas! But, I didn't spot as many as I'd wished for. :( Only saw them when we were heading back. Bummer. Nevertheless, they are all so cute! Cuter form of rats, maybe? >< They look so smiley!

Empty spaces. So good for riding.



Sunny day riding along with great views.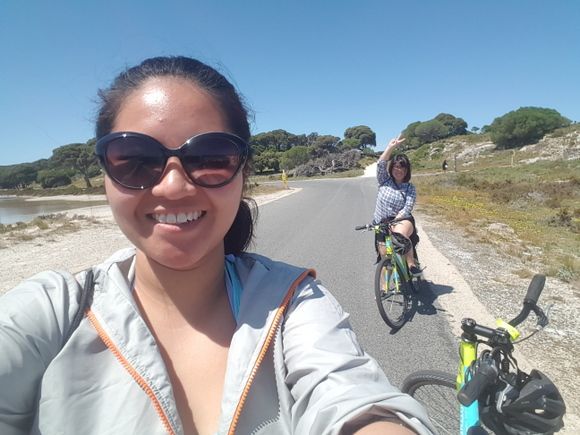 It's said to be compulsory to have the helmets on while cycling.. We were given these styrofoam helmets, but never used them. :X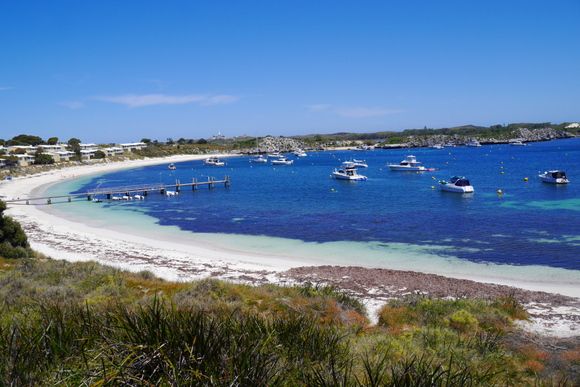 Our first quick stop because the sea look really gorgeous, it's almost unbelievable!
There's like 3 colors leading up to the main sea. SO NICE!!!



Not a place for snorkeling though...
Facing this beautiful sight is a row of resorts! Imagine waking up to this sight..... And the smell of sea. ♥
There are a few areas in Rottnest Island that you can snorkel. Not all. We actually googled it up because we didn't know what would be good and along the way.. Didn't want to end up just roaming around. Then, we picked just 1 place. Lol. Didn't have enough time to do it more. :( Bummer... Less than 6 hours is a little too tight to fully enjoy the place in my opinion.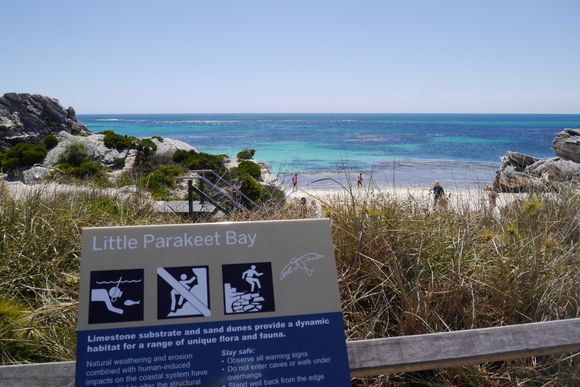 Our first snorkeling spot! Little Parakeet Bay. The name sound so cute.



Water so clear!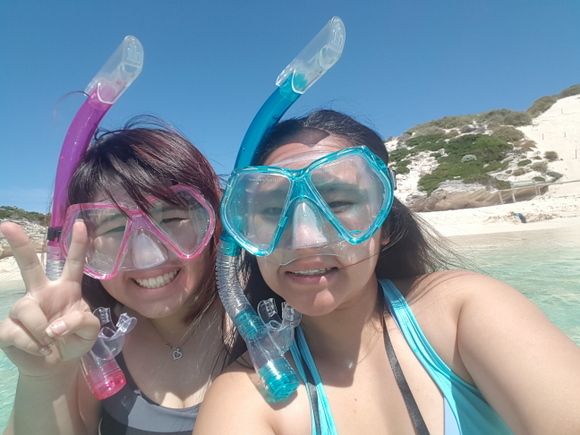 Looking a little hideous funny with the masks. Lol.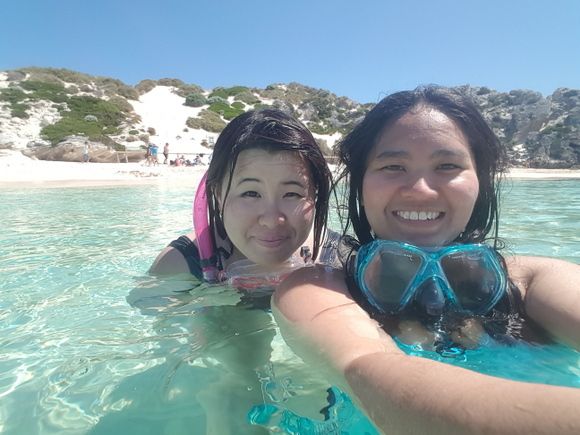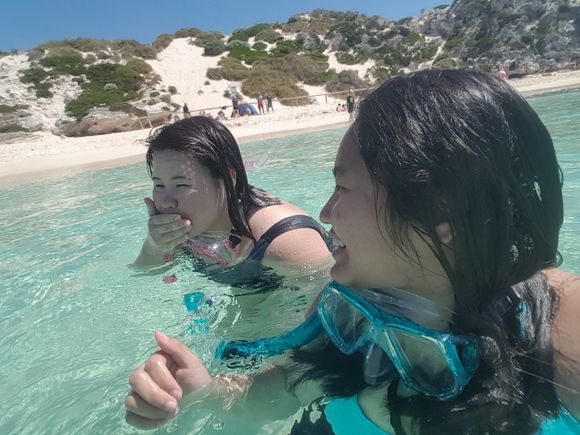 Here's me drinking sea water. Lol.

I kept inhaling the sea water that day.. So much that it felt like I had consumed too much salt. Lol. I swear to god it felt like I was coming down with a sorethroat almost immediately! Felt so bad. It was crazy. I survived though. LOL.



Haniza kept asking me to open my eyes. But I just couldn't. Lol.
The sun was so bright...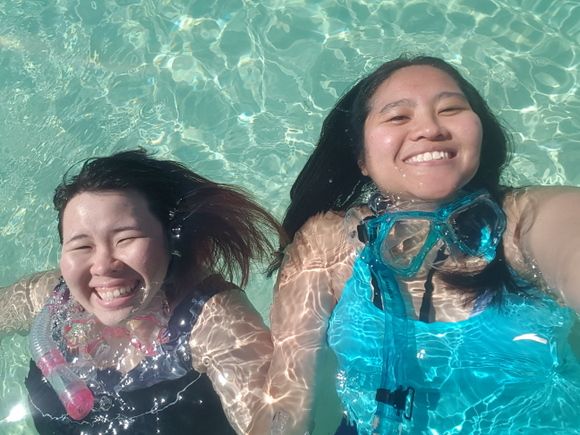 Big big smile. So happy. ♥
Seriously though, the water so clear you could see strains of my hair!
Anyway, the underwater view here was not very fantastic.. There were few fishes and corals, but not many. Not sure if it's because we didn't go deep enough? Probably actually... We stopped here for less than an hour, and I was still learning to snorkel.
We moved on thereafter, and tried to get dry by cycling. Lol.

Felt really relaxed going through different beautiful sights. In just one island.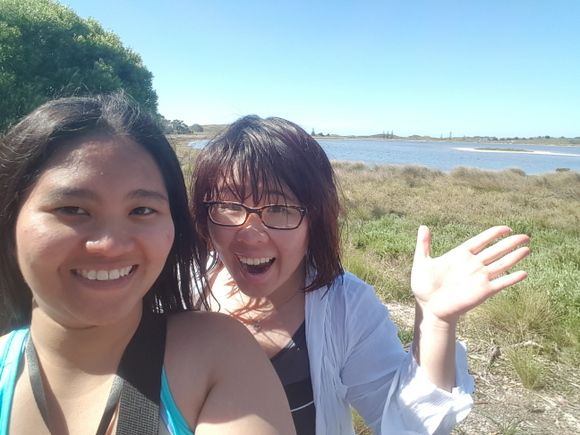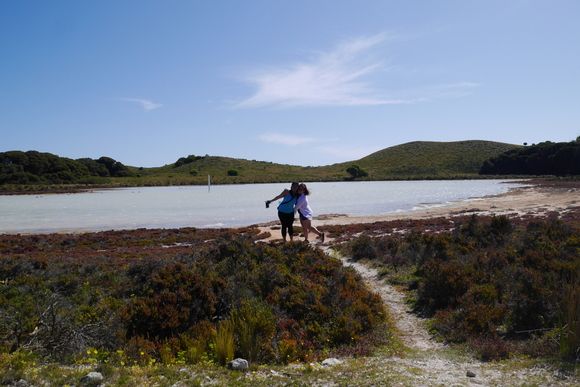 Missing Haniza so much right now. :(



Water so clear.... Can easily mistaken these as drinking water.



SEEEEEEEEEEEEEEEEEE.. Geez.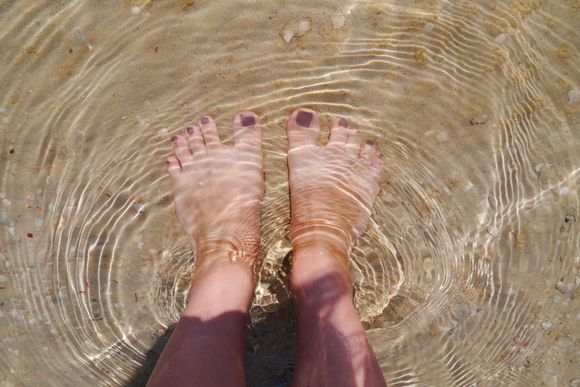 Another shot, because... Fwah.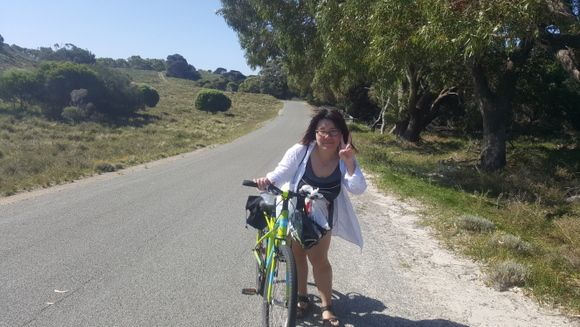 Missing my birks looking at this shot... It gave way months ago, before my Korea trip. T_T
It's already the 16 Oct 2016, time flies too quickly.



Here's me at the top of the island....
Thinking about how tough it was a few minutes ago trying to cycle up. Lol.
It was very steep and I gave up halfway because I didn't have the stamina or strength to just cycle all the up way. I was afraid of falling backwards also actually. Lol.
/fail.
The going downslope was fantastic though. hehehe.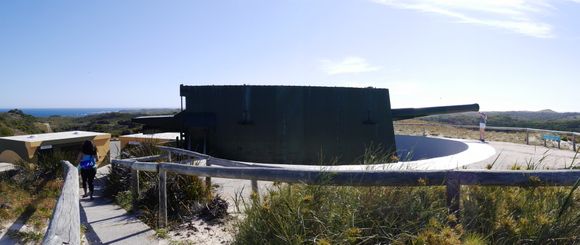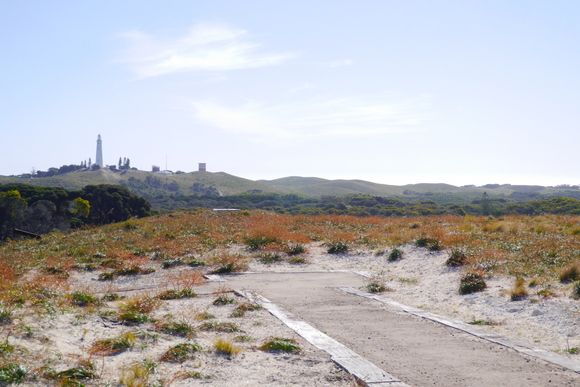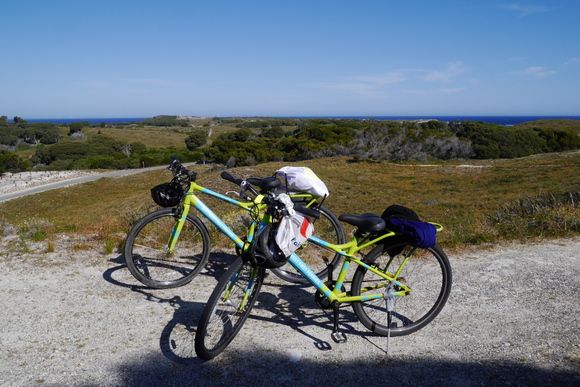 Cycling in Rottnest Island is a great joy. No traffic or obstructions and very big space for us to speed around. We hardly see anyone around too... Maybe because the island is pretty big? People are just scattered around. It was really enjoyable cycling in Rottnest Island. Singapore is small, the cycling paths are not as spacious and there's too many people around.
meh
.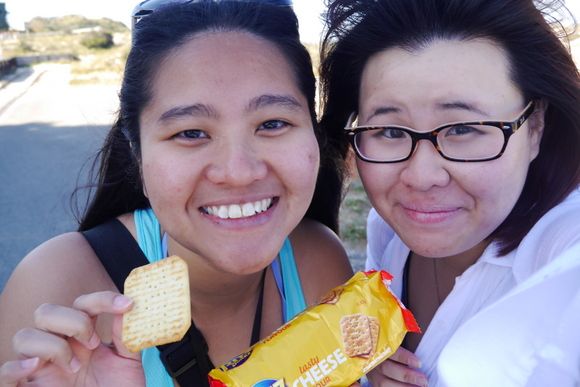 Check out my very dry lips....
By this time, we were feeling damn hungry uh! Lucky we brought biscuits.
If you plan to spend half a day in Rottnest Island just cycling around, remember to pack food! A mini picnic would be great!
After that shot, we speed cycle back to the port. Loved the cycle downslope! Damn shiok. Damn fast. Too fast, so I had to engage my break because I was afraid of falling. Lol. Me and my many fears.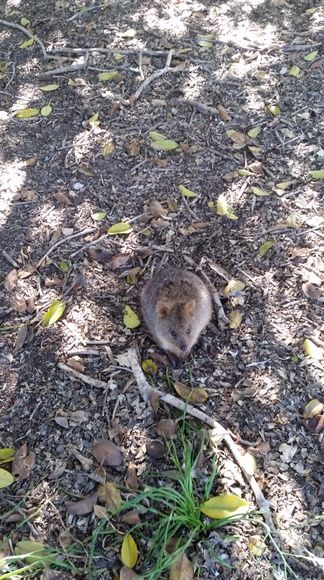 A WILD QUOKKA APPEARED!!!

Omg!!!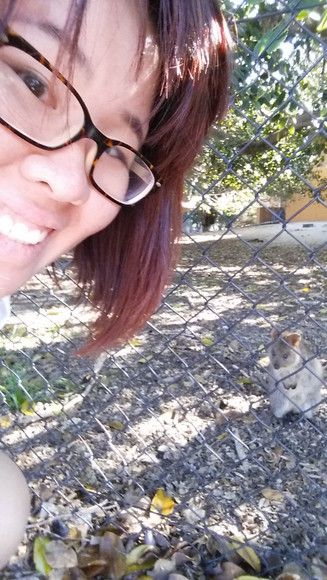 So cute, no? Like a mix of Kangaroo and Rat.
But so much cuter!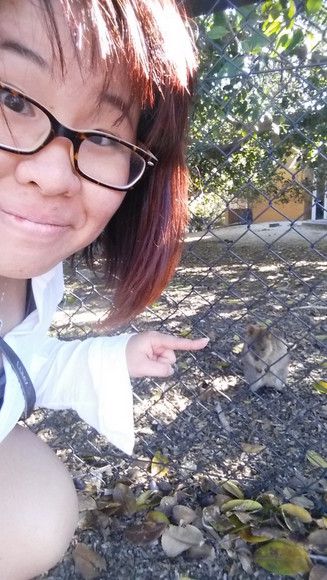 Everyone's just there trying to take a selfie with them hoping they'll capture the Quokka smiling.
Not joking when I say there were people just hogging on to one.


Owww.. You sleepy little cute thing.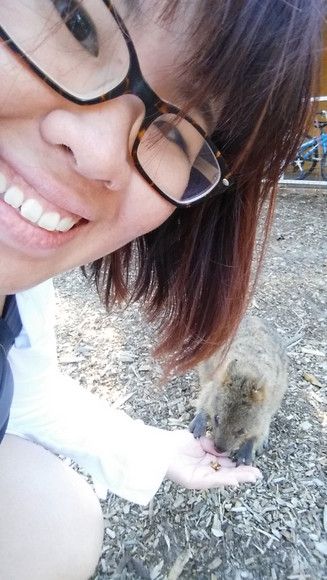 LOOK AT THEM PAWS ON MY HAND!!!! SHO CUTE!!
&That was the last of it. After failing multiple times at the selfie attempt with Quokka, we slowly dragged ourselves to the port.
Anyway, we were very exhausted at the end of the day. The day passed just like that... Every second was relaxing, it wasn't tiring during the day, but then we felt everything in one shot when it ended. Lol. We only felt the heat and the exhausion at the end of the day when we were heading back from the port. It's like... we were suddenly drenched with fatigue. Lol. The ferry ride back was quiet. We were still slightly wet, but burning. Got a tanned from this day...
Lucky we weren't burnt, that would have been terrible. :X But the sun still sucked up all our energy.
So! Back at the harbour, we didn't take too much time to decide on dinner.
We loved the "Birds of Tokyo" pizza from Little C's Pizzeria (
X
) and wanted to try something different from them.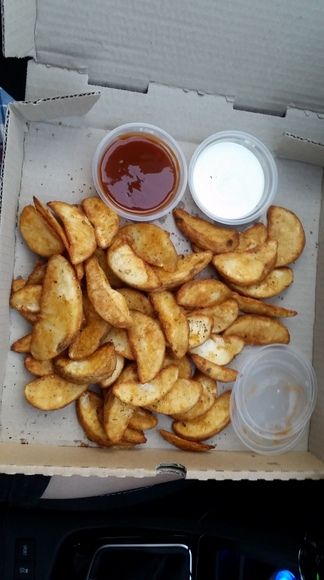 Got some sides for the road.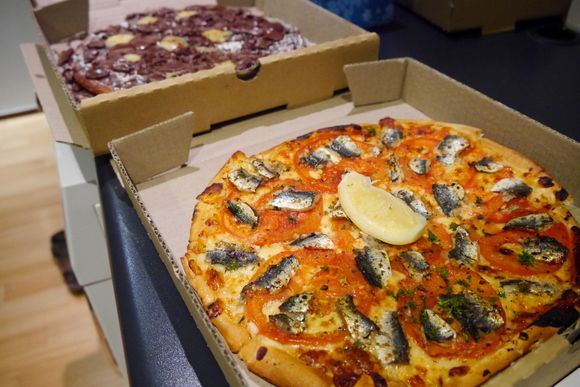 Opened these up when we were back in our apartment.
At the back, we have Red Velvet Pizza and the one infront.......
I can't remember the name of it. And it doesn't seem to be in the menu online. Both of these. :/
Anyway, they were slightly disappointing. The Red Velvet was very rich very rich, a bit too rich for our liking. And the fish pizza just failed in comparison to our Birds of Tokyo.. Lol.
Our 6th day was also the day we had a ballet show lined up. It's my very first ballet show, and I wasn't sure what to expect.... But I was definitely excited! Watching something in another country. Little did we expect..... To have actually mixed up the start time of our show. IMAGINE THE HORROR!
Back in our apartment, we dropped everything and took turns to prepare for the evening... It was past 7pm when Haniza suddenly decide to check out the time of our show. IT WAS STARTING AT 7:30PM!!!
We totally panicked. Lol. Didn't even finish our pizzas and just slap on some simple makeup to make sure we won't scare people.......... Actually no, we were already almost done with preparing. Our usual makeup. Lol.
So we rushed off and had a little bit difficulty finding the right carpark. As most people would experience, when you're in a rush, everything starts going wrong and making it worse.
meh
We were late for the first act and had to wait outside. Lucky for us, there was this TV outside the theatre.

Collected our tickets at the counter right outside the theatre.
Didn't really take notice of the entire place because we were very frantic. Lol.
The person who was assisting with the ticket issuant shot us looks for being late... :X Probably making racist remarks in his head. But he didn't came off as being rude. We were really apologetic... Some part of our ticket money just ticked off like that. Lol.

&Then, we're in after the first act!


I'm not so much a ballet person, and I would not be able to appreciate all kinds of ballet performances. Most kinds actually...... Haniza used to ask if I was interested in ballet performances back in Singapore. I never once join. :X But, I did enjoy this show. Didn't feel sleepy though it was a long day out under the sun.
Maybe because it's a story I already know... Sleeping Beauty. One of the Disney classics. I was curious how ballet would tell the story. The performers were all pretty amazing! No vocals, no speech, just them dancing and telling you the story in their graceful motions. The ballerino was SO impressive!
And I loved all their costumes! So elaborate, too elaborate for a ballet performance.. I wondered how they could pull off all the gracious movement in the outfits they were in. Big dresses, big hair and just really colorful costumes. I was fasinated when they took turns to do their spins and land so gently down. Something I'll never be able to pull off.
Hurrrrr
.
After the ballet performance, Haniza and I took a slow ride back. Oh wait! During the intermission, we did rush back to where we parked our car because Haniza thought she didn't lock the doors. Lol. Had to go through the casino and we had to flash our passports. Lol. The staff at the counter kept reminding us to head back on time too. Oops.
That's all for our 6th day. A relaxing day out at the beautiful island, and an elegant night watching a ballet performance. ♥
Selfies to end this post:

Got this tee for my mother from the gift shop at Hillary's Boat Harbour.
So big hor? Lol.



Water oh-so-clear!



Till the next one! Last 2 days to go. T_T
Day 7: Dolphins, Penguin Island and Ciao Italian
Last Day : Kings' Park and Fremantle