Ow ya goin' mate?
(Trying to act Australian here, but no one would probably get it. lol)
First off! I've been away for so long............ Got really lazy and carried away with the boring adult life. &Now I am so lagging behind all my blog entries that there's going to be 1 year of backlog soon.
Say whuuuuut?!!
I've tried convincing myself to do throwbacks, but... I can't. I just.... can't. Lol. So many random and ranting entries in the queue, you can't even imagine...
(Date check: 28 Jul
2016
)
Anyway! Even though it's already been almost 10 months since my trip to Western Australia, I believe I'm going to remember the details all thanks to the pictures we
spammed
took! Hehe. That's the great thing about pictures, right? You capture a moment of your time, but when put together, you can string them into a memory......
And... I digress.
So being in 2016 and at this present time, there hasn't been that great a change (I changed job!), but I guess my blogging style would have a slight difference (still naggy!). Instead of just uploading every single nice pictures, I've decided to go easy. ;) Just the best out of the many because honestly, I'm also pretty lazy. Lol. Also not going to stress myself to complete the entire entry in one shot, so here's part 1!
Ⓗ

Ⓙ

8 Days In Western Australia - Arrival + Day 1:
Magaret River, Winery and Chocolate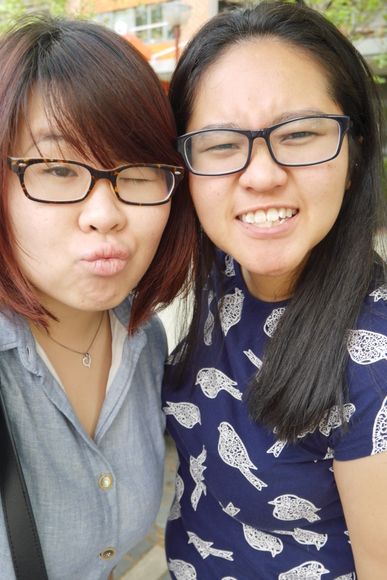 ps:

Ⓗ

Ⓙ

means HaniJas. ;)
It was a Perth-fect vacation with my Primary School Bestfriend, Haniza!
♥
Won't say it's perfect per se (I just wanted to use 'Perth' tbh hahaha) because we had a few slip-ups throughout the 7 days, but it was definitely a trip I'll be remembering for a very long time!
Anyway! Perth, or rather, Western Australia wasn't actually our initial destination. We were first considering Melbourne, but Haniza couldn't be sure of her leave application and thought we would only have 5 days to travel. &That would have been
Perth
-fect for just Perth. Lol! I'm glad we had 7 full days though; Managed to explore Western Australia as well. There's actually a lot of things to see!

Departuring in the middle of the night! Flight time: 2am.
Parents drove me to the airport and had a quick supper together before we checked-in.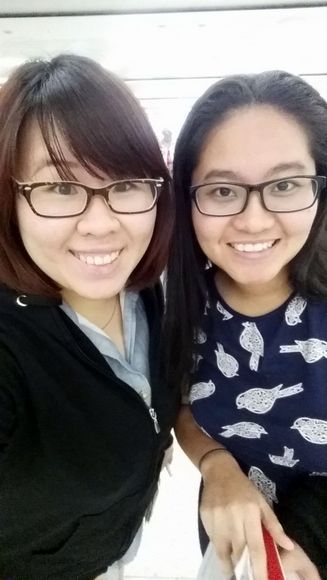 Arrived at Perth and took a proof shot for the family. :3



Bad facial complexion from flight, but who cares!
A whole day awaits us.. :D
The first thing we did after arriving was to cab down to the nearest No Birds
X
outlet. Not going to spell out what that is because, to date, the cat is still in the bag and le 엄마 is still in the dark. (Then again, there will be pictures later. lol)
We did plenty of research on this. Decided on No Birds because it was relatively cheaper, and they are slightly flexible with their requirements. We were both crossing our fingers when we arrived at the location though...... No matter what, Haniza was less than 3 months
seasoned
. But yes, our prayers were heard. They weren't concerned about the experience. Which could be bad... But oh wells, that discussion for another day.
I'm so glad we just went ahead with it. It was so convenient!! There was even this one night we had to consider just staying in because of a blunder with our accommodation. Imagine if we were without it! Homeless, we'll become.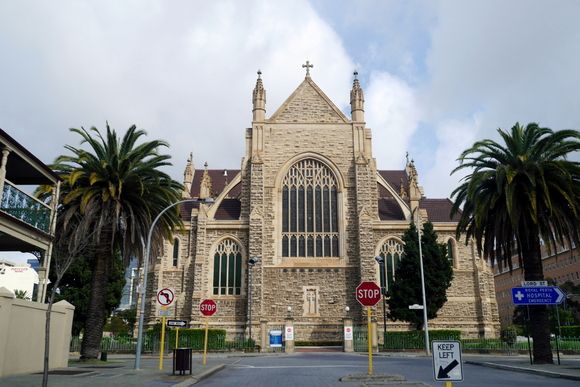 First shot taken at Perth! :)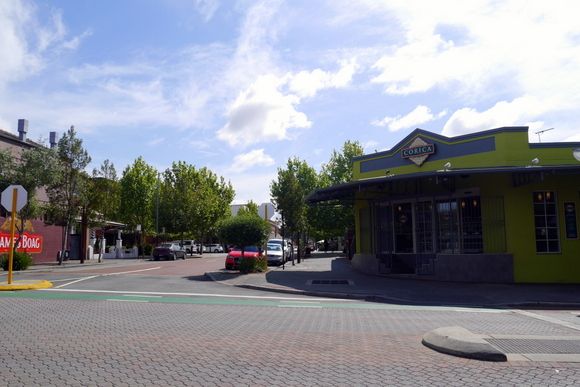 The first place we visited!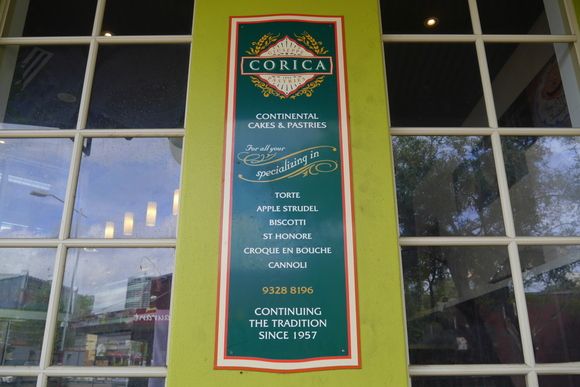 The Apple Strudel from this place (Corica X) was raved by many.

We didn't want to be blind followers, so we visited it the very first day immediately after collecting bird, and bought a box. We wanted to try the strudel before deciding if it was worth bringing it home.

IT DEFINITELY WAS!!!

We went back on the last day before our flight to get it. Lol. I love their shortbread biscuits too. Thought of getting it to share, but I kept it all for myself in the end. Hahaha.

Thinking about it now is making me hungry..... Bad timing.
(Time check: 11:34PM)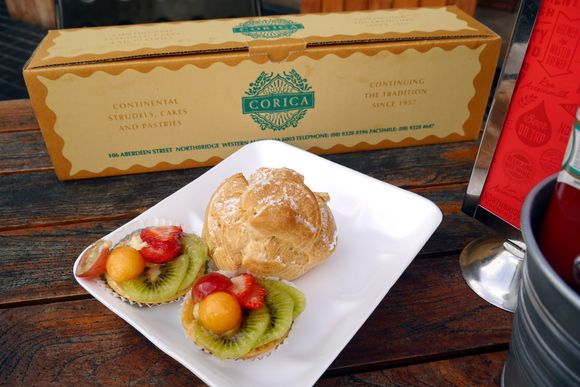 Fruit tarts, puff pastry and the famous Apple Strudel!
YUM!

There aren't any seats for you to enjoy the pastries immediately and not many shops were opened at that time. It was not even 10am then. So, we roamed around to find some place to have breakfast!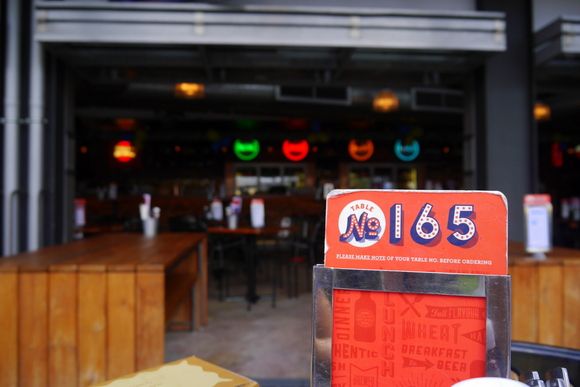 The very few places that was opened.
Don't even know what this place is. Lol.



Eggs Benedict with Bacon!
I had all the bacon. So salty!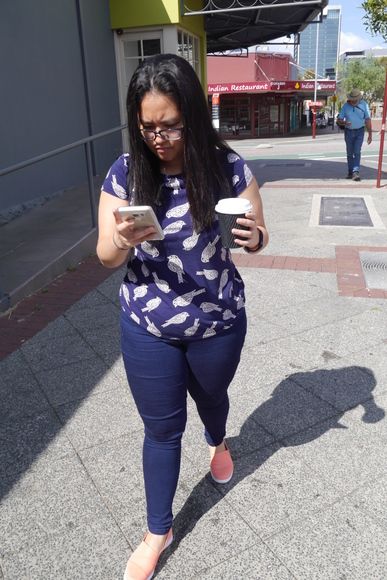 Haniza checking out the map to figure where to go next.
I'm a terrible co-pilot by the way. I get attacked by the Z-Monster so vigorously, I'll just surrender and let it knock me out. I've tried my very best to control and fight it. But I suck at resisting. Failed at every single battle. Poor Haniza, she had to fight her own Z-Monster and hold the fort while at it. She told me she wasn't sleepy at all though. Credits to the supplements she was taking.
In all seriousness, I really felt bad. There were just the 2 of us, and I was of not much help to begin with that she had to do it all....... And there I was just dozing off.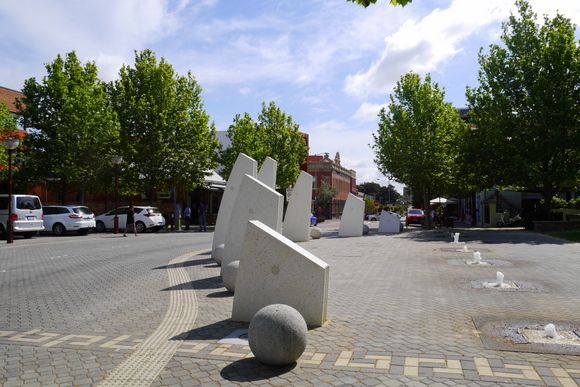 One of my favourite shots!
Here, we arrived at Perth City to get my Data SIM.
Haniza purchased a card at the airport, but it was the Telecom that didn't have superb connection everywhere. I researched, and got a recommendation from a friend that we should get Telstra
X
.
It is not as easily available to purchase it. It wasn't located anywhere near the airport and we had a difficult time searching for it. Went round and round the same place trying to figure the place out. Lol.
The outlet we went was located along a stretch of shops. It wasn't a standalone facing the road. And this area wasn't accessible by vehicles. We had to keep the
bird
somewhere (even this somewhere was hard to find!) and walk to the place. I believe it took us 10 minutes to walk there. No regrets though. Awesome data coverage! :) I remember the guy who was assisting me was handsome too! Awww. Plus point! Hahahaha. Anyway, it wasn't that great a difference from the Telecom Haniza subscribed to, there were just a few places that she would go data-less. I would say, having good data coverage would be extremely useful on a trip!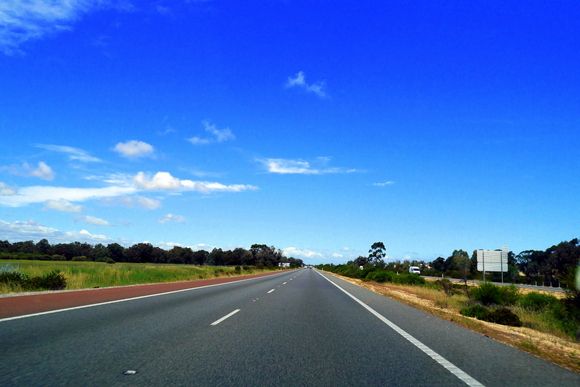 Back on the road!
I have too many of such shots that I got sick of editing, and even deleting them. LOL. Had to keep going back and forth the pictures to see which one is nicer because some had a small detail different. One cloud difference, or a bird difference. Lol.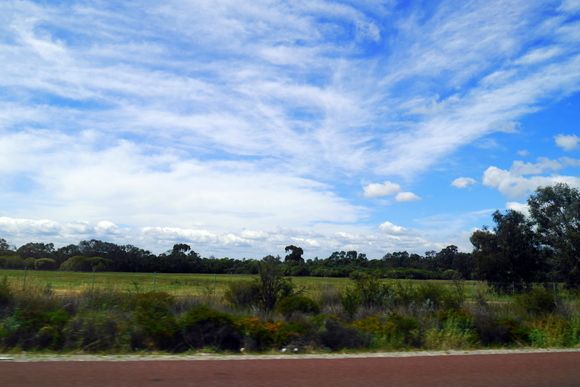 But it was so pretty! Just look at it!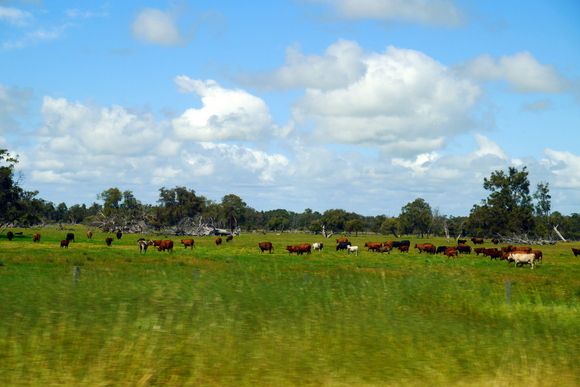 Wild cows spotted!!!
They have so many of them. Cows, sheep, kangaroos!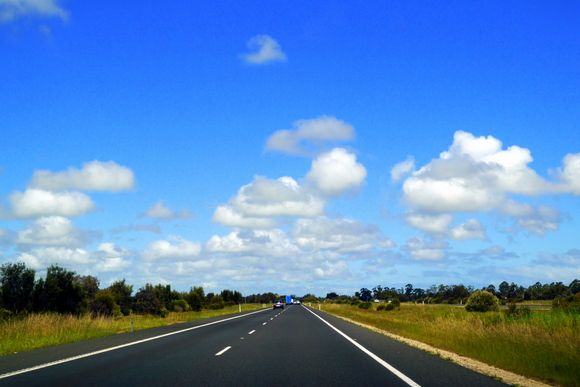 Another shot because JUST LOOK AT THE CLOUDS!!!
Look so fluffy like cotton balls.



Clear sky!!! Beautiful clouds.
Something we'd taken for granted until Indonesia burns their forest. Lol.

Yeap, I remember very clearly that Singapore was hazy and smelly when we went on this trip. IT WAS THE BEST THING EVER!!! Really didn't know how great it felt breathing in fresh air. Lol. Treasure it now..... We'll be greeted with awful pollution again.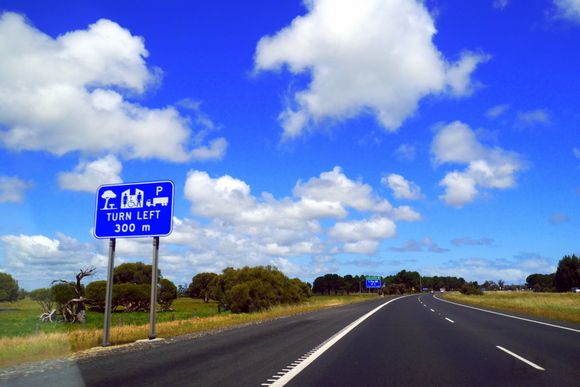 Rest stop because nature called Haniza. Lol.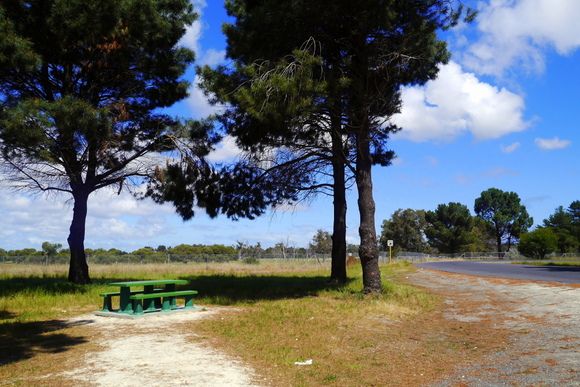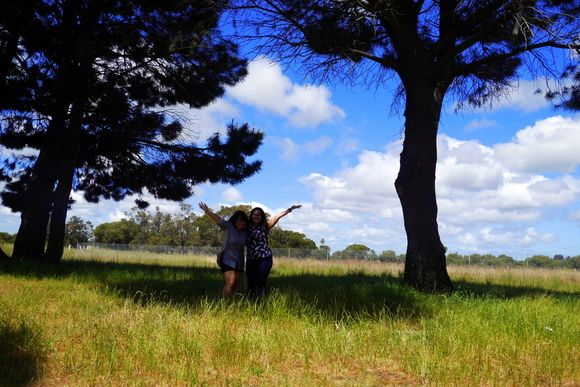 Posted this on Instagram to boast about the clean air we breathe. hehehe.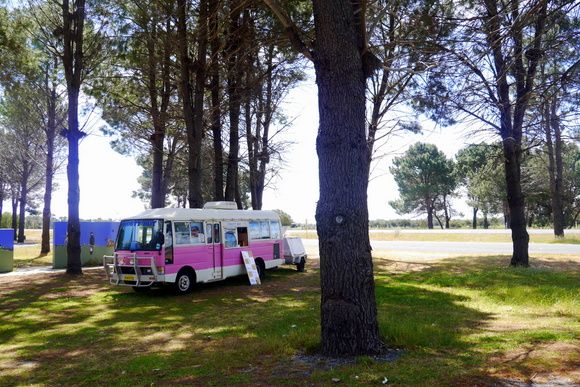 Ice-cream van at the rest stop!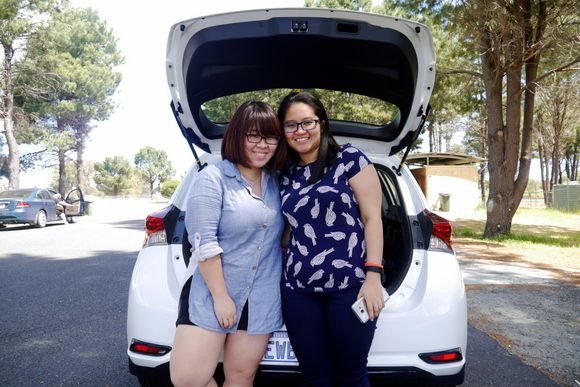 And here, I am praying le 엄마 don't read this.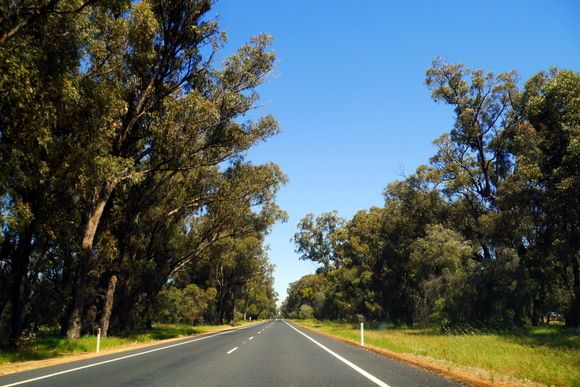 Back on for another 5 hours!
It was pretty insane... I didn't even hold out on the first day okay. LOL.

Terrible co-pilot, terrible friend.

So anyway! The first place we checked out was Margaret River. We had all our itinerary planned, but change is the only constant. The journey was too long, so we had a pit-stop and checked out some winery mid-way! :)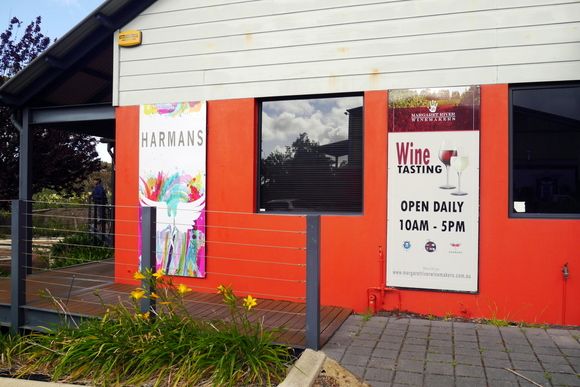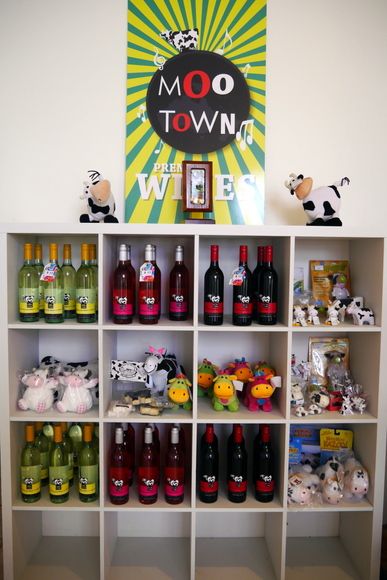 White wine. Red wine. Cow plushies.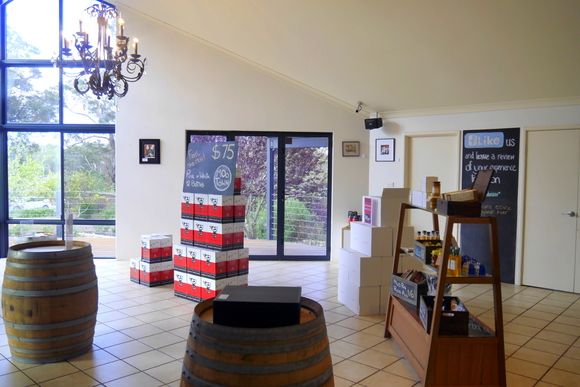 This place is nice. It wasn't a big space, but it was spacious.
I like spacious places.

There was already a group of ladies tasting wine when we arrived, so we didn't want to intrude and disturb their experience.



Roamed around outside and looked at the mini garden.

We were invited to join the ladies a little later though.
I can't appreciate the taste of wine (still can't), so I couldn't really differentiate them. It was either bitter, too bitter, or sweet to me. Lol. Haniza got 2 bottles from this place. Sadly, the experience was not the best because the man at the shop was a little... sarcastic? Commented how we Chinese always go for red items because of the color and that it has an auspicious meaning. So, we always start off with red wine thinking it's great, which is wrong because for people who are new to wine, they should start with white wine instead.
I don't know... Maybe it's just us? But nah~ It was his tone!

Next up!
It was very near the winery, so we just dropped by.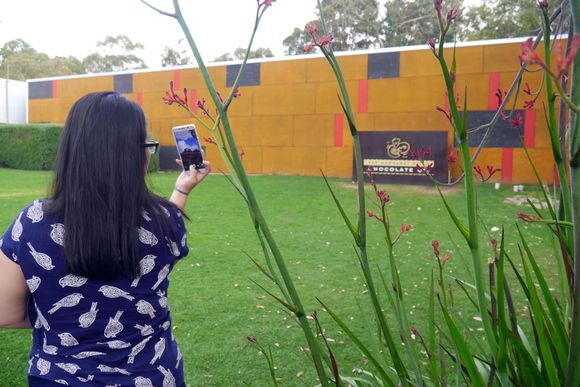 Check out what Haniza was snapping!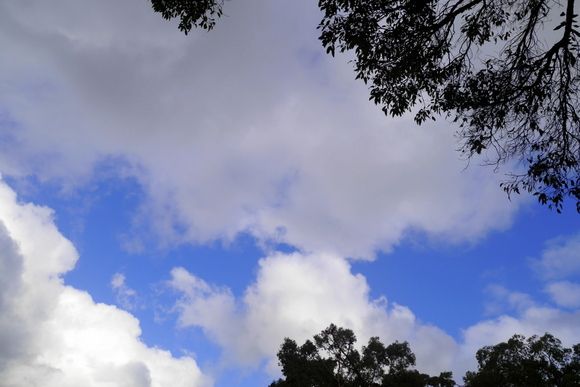 What did I tell you?
Couldn't get enough of the clear blue sky!



And we're in!

.
.
.

CHOCOLATE HEAVEN!!!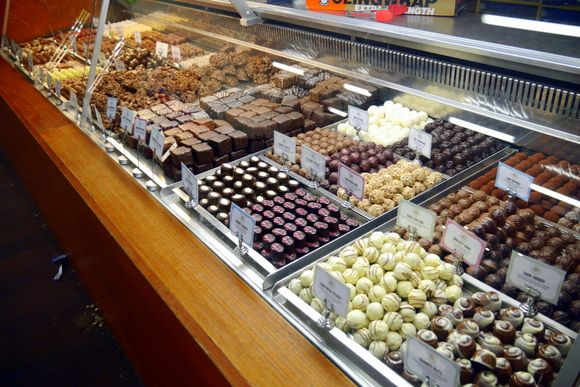 So many kinds to choose from.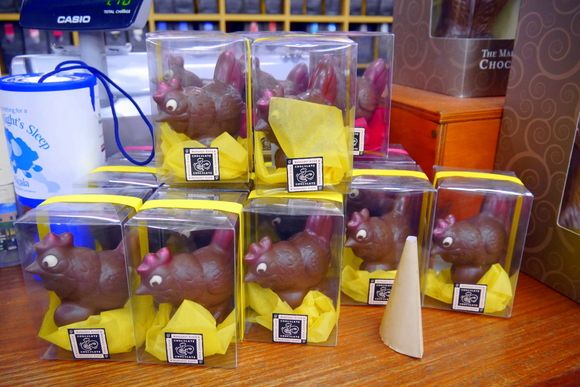 Some chicken chocolate for you?
This is so cute!
Who would bear to eat it???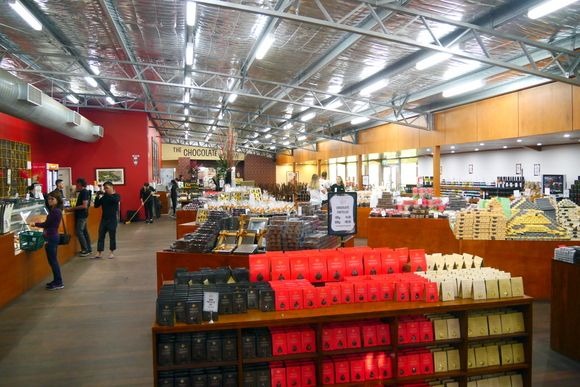 The place was pretty big with plenty of chocolates!

I also remember seeing chili chocolates, chocolate tea, chocolate soap, chocolate bath salt.... Whoa.

I regret not buying what I want here though... We thought it was a better idea to find the shop in Perth (there's an outlet there!), so we only got a few items here. Sigh. We never found it.

Note to self: In the next holiday, just buy whatever I like and whack only!

ps: I really did buy just what I want in Seoul. Lol.
2016, June. Look out for that. MUAHAHAHAHHA.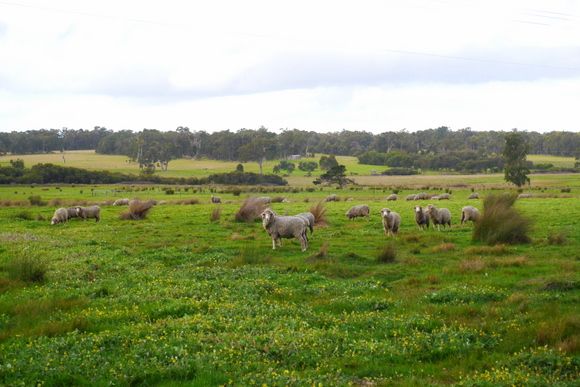 Back on the road, and here's some sheep staring!

I like that we could just stop whenever we want to.
See something interesting?
Stop by the road and get down to look at it. No problem.
SO CONVENIENT!!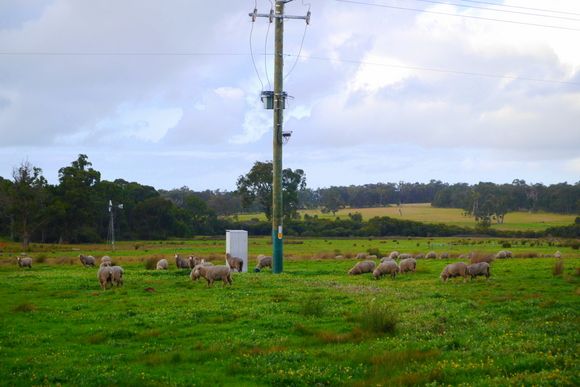 More sheep!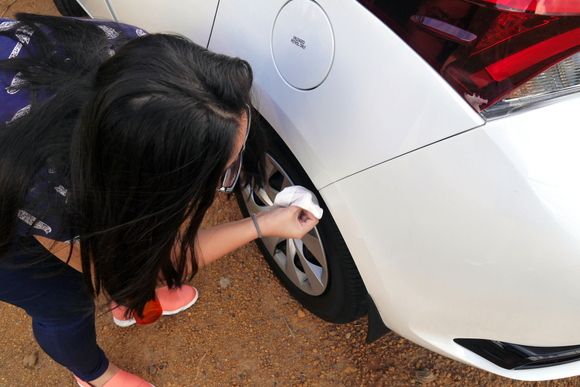 And then we found something on the bird. LOL.
It was just a stain. Luckily.

And so we were off again for a really long time. I can't tell how long it was because I wasn't even conscious. :X

Hours later, we arrived at our first accomodation!

.
.
.

The wrong place!!! Lol.

Instead of 49, we went to 50 and walked in to someone else's place. :X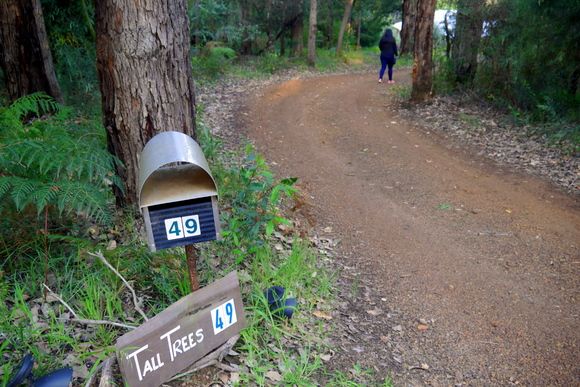 tadaaaah~~

Here's us walking in because we weren't sure the bird could be brought in.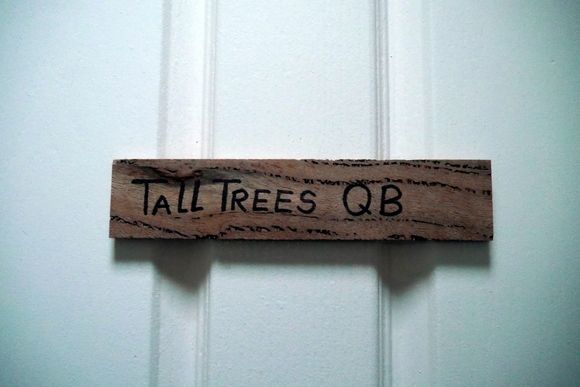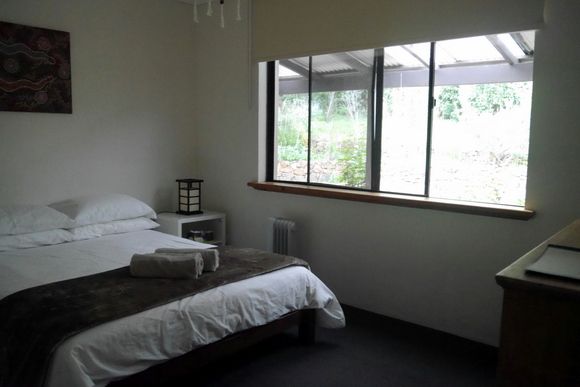 Nice, simple place.
From this Airbnb host: Claudia

She wasn't in town so we couldn't contact her and had a little challenge looking for the place and the entrance to the house. Everything worked out just fine though... :) Afterall, it was merely for a night stay. They also have a cat! We're not allowed to let it in or it'll dirty the place. And it was very clingy! Kept walking with us.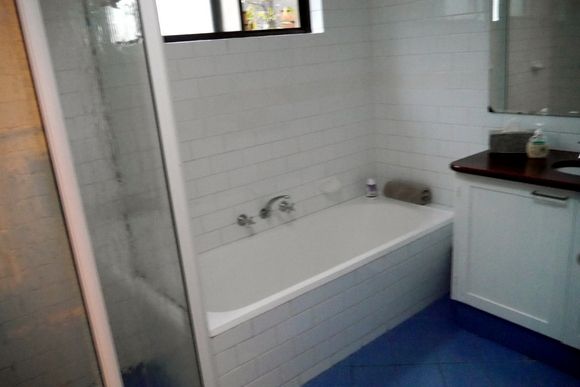 The shared bathroom!
I was unfortunately down with period. :( Imagine the discomfort!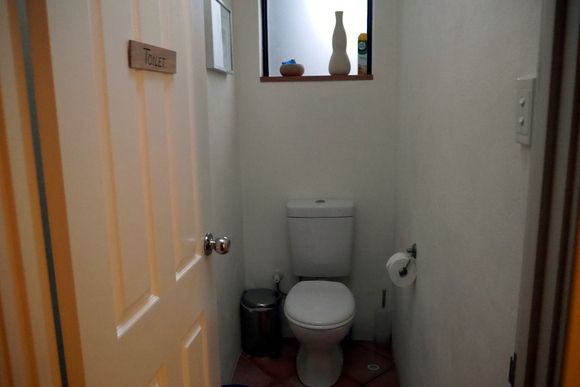 Toilet separated from the bathroom.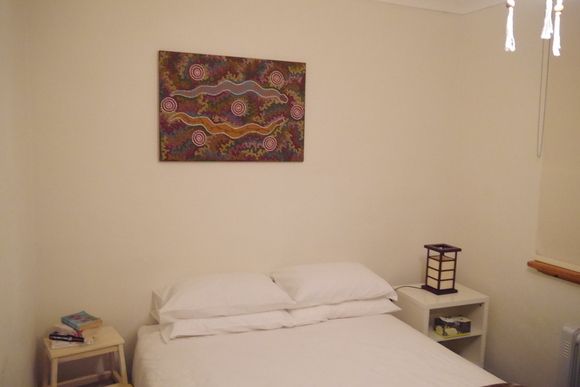 Another shot of our bed.




Two shots of the outside and the living space taken the next day. :) It was a nice quiet accommodation. But I would say it isn't our favourite. The location was slightly secluded, so it's definitely not accessible any other ways than your own transport!




So yes, our accommodation for this trip was all booked via Airbnb X. My first experience with this concept, and I like it. (Also booked a place for our Seoul trip from Airbnb. heh.)

Anyway! Just a note, this trip was pretty YOLO. Because of the uncertainty about getting bird, (I seriously just referred to it as a bird throughout this entry. Lol.), we only booked our accommodation for the last 4 nights. Pretty crazy, huh? We couldn't be sure our plans would work out because with or without bird, the whole itinerary would change. And difference was drastic.

So yes, we only booked a place to stay for our first night in the afternoon itself! And then move on and decide on where to go the next day before booking our accommodation for that night. I'm so glad there were affordable places available.

Anyway! After settling down at the house, we didn't stay long and headed out! There were other guests as well, but we didn't get a chance to mingle.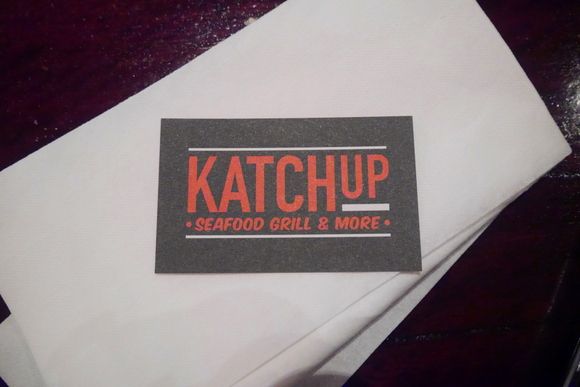 Splurged on our first dinner.

Not many shops were open anyway. We were out and about at 7pm. 7PM!!
Y THEY SO NO NIGHTLIFE!
And then we have plenty of Singaporeans just yanking about how boring Singapore is. Seriously.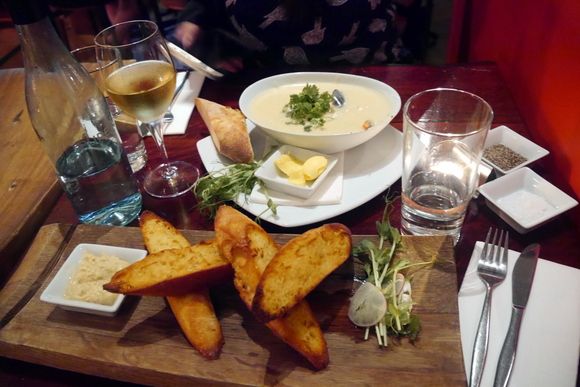 YUM!!!

We shared all and it was good enough. We had garlic bread so often because of Haniza. Lol.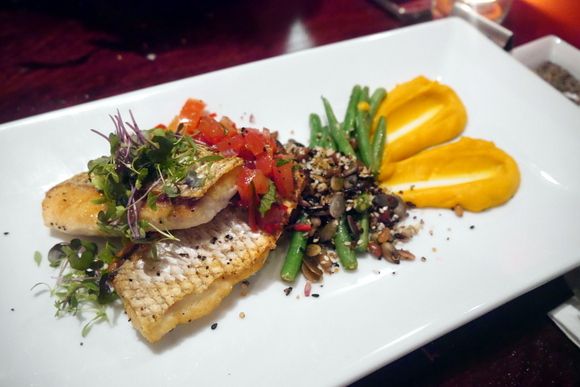 So perfectly cooked, the fish!
And it matches so well with the pumpkin puree and the other vegetables plated together.



First night fell upon us. The quiet street of Margaret River.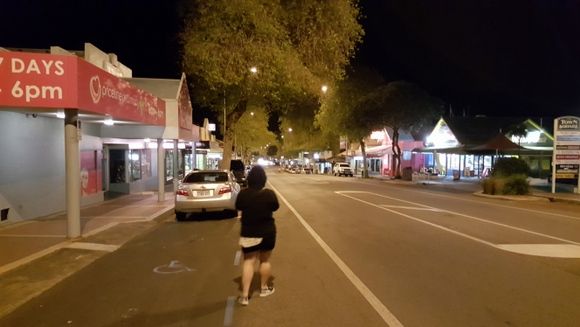 &This is all I have for Day 1. :)
Toodles!

ps: Promise I won't take long with the rest. I'm so happy to be going through this again. Heh.
Day 2: Jewel Cave, Lighthouses and Sugarloaf
Day 3: Movie, Animals and Almost Homeless
Day 4: Busselton Jetty, Voyager Estate Winery and Hamelin Bay
Day 5: Whale Sighting, Aqua and Caversham Wildlife Park
Day 6: Cycling & Snorkeling @ Rottnest Island and A Ballet Show
Day 7: Dolphins, Penguin Island and Ciao Italian
Last Day : Kings' Park and Fremantle