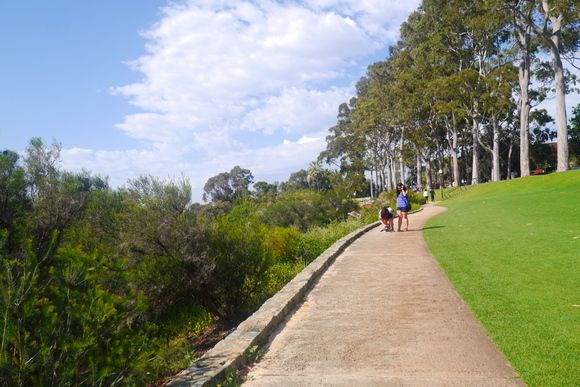 Ⓗ

Ⓙ

8 Days In Western Australia - Last Day : Kings' Park and Fremantle

Arrival + Day 1: Magaret River, Winery and Chocolate
Day 2: Jewel Cave, Lighthouses and Sugarloaf
Day 3: Movie, Animals and Almost Homeless
Day 4: Busselton Jetty, Voyager Estate Winery and Hamelin Bay
Day 5: Whale Sighting, Aqua and Caversham Wildlife Park
Day 6: Cycling & Snorkeling @ Rottnest Island and A Ballet Show
Day 7: Dolphins, Penguin Island and Ciao Italian

Last day of our trip. Last entry about this trip.

Bittersweet...
BUT FINALLY!!! I never thought I'd actually complete this in 2016. It's been too long! I actually started on 28 July, but has only completed it 100 days later. Hahahaha. Exactly 100 days later. Procrastination at its' best. But at least, I never gave up and actually completed this! One down and another trip to update for the year 2015 before I can start on 2016 updates. Woohoo~~ &We are already reaching 2017 in 2 months time. Man... Time flies.
(ps: Don't think you'll see Korea's post anytime soon, Shan. If ever. LOL)
Last day is easy to update though... We took a brief stroll around 'Kings Park and Botanic Garden' (
X
) before returning the car, then we had a little tough time traveling back from the rental shop to our apartment by foot, rested just a bit back home, then headed out again to an area nearby before continuing to Fremantle Market in their public transport. It's such a different experience...... Slightly inconvenient. :X But we made it!
After exploring Fremantle Market, we had a good dinner along the harbor before heading back to our apartment to wrap up our trip. We caught the sunset!!!! Felt like it was a nice way to end our 8 days together - The sunset was gorgeous... Sadly I didn't manage to capture the full beauty through my lens. :(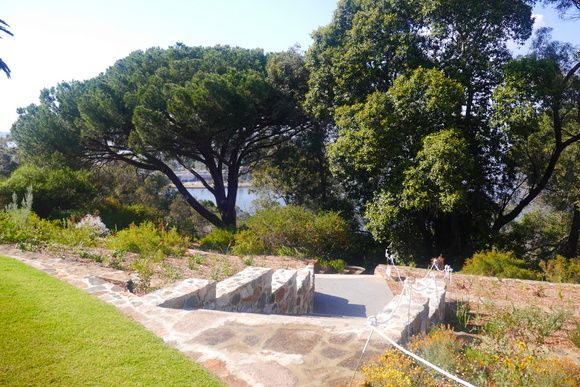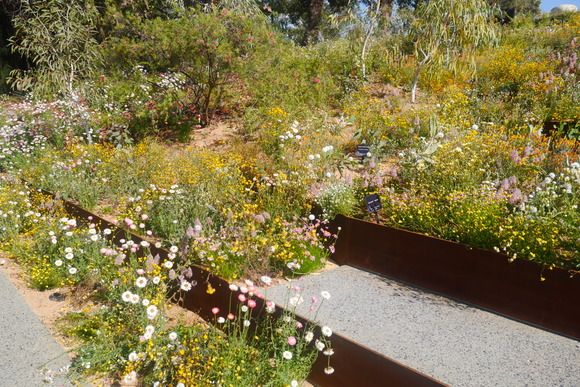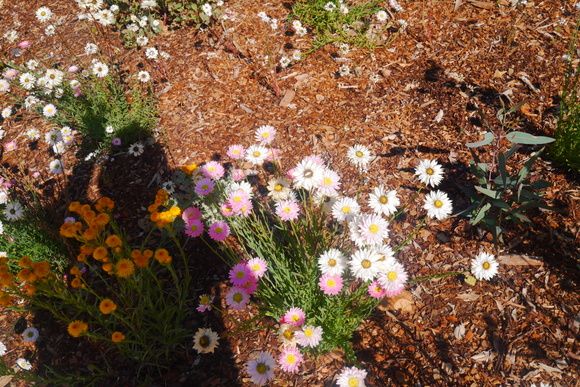 The weather was good... Sunny, but not hot. Breezy, but not too cold. It was a perfect day to take pictures because the lighting was very good too!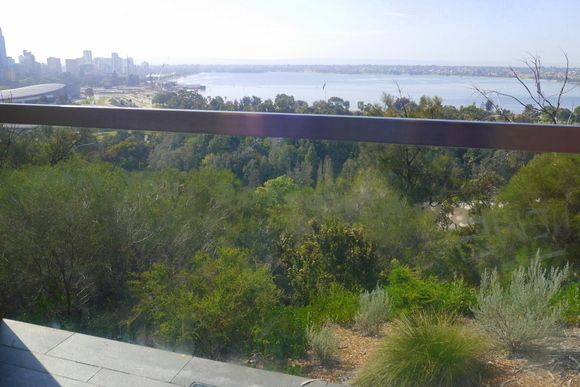 "Carry Your Sorrow Away" - It was written on the glass.
I have supersonic memory, don't I? Hahahha. Not. I obviously cannot remember what was on the glass and I couldn't find the answer on google, so I played with the settings of the image to figure it out. A+ for effort. ;)
Anyway, there were memorials around the park. Here in this area and several other parts of the park. There were trees with plagues
planted
infront of them with names and reasons why they were remembered. It was touching yet a tiny wee bit creepy? There were just so many lined up......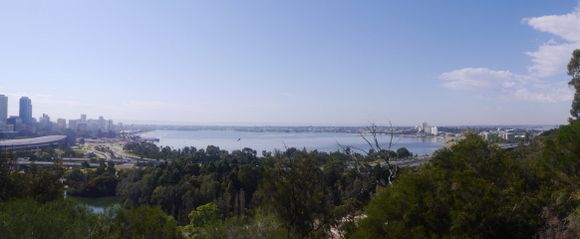 The view you'll see above the glass.



Daytime view of their Skyline.
I wish we have less tall buildings and more big green areas for such sights.


The walk was quiet. We just walked around exploring the park on our own, and took a few shots together and of each other. I felt sad going around on our last day.... It's always sad knowing that your vacation has come to an end. An inevitable end, but so sad so sad. :(
So after this walk, as mentioned, we drove to return our car. Owww... The convenience.
I suddenly recalled..... The night before our last day, Haniza and I spent a good hour trying to clean the car.. Not because we are nice people, but because we realize our car looked extremely dirty!!! Hahaha. Unimaginable! We were traveling around Margaret River so much and it is so near the grass and whatnot... Then there were our drives to the harbors... We didn't want the people in the shop to think we were filthy... So we took expensive mineral water, that we obviously won't finish over the night, to splash clean the dirtied spots and made sure it smelled good. LOL!! When we returned the cars, we saw them just using their hose washing other cars with a straight face though. Dangit. Hahaha.
Anyway, they sell this really nice smelling freshener.. I can remember that! Some kind of Lily fragrance. Haniza loved it and bought a few home... I enjoyed smelling it so much back then too. No use for fresheners in my place, we smell good. Hahaha. A very calming smell. It's not found in Singapore though. Bummer. Haniza and I also bought bottles of body soap - This particular smell that is not found in Singapore. Madness right? Haha. I only got 1 la.. Haniza got 2. And when she headed back to Perth during the Lunar New Year this year, she got me another bottle! I like it so much that I'm using it very slowly and I still have it. :X
After sending our
baby for a few days
back home, we walked back to our accommodation. It's not near. I think we were mad. Lol. But there weren't public transport that was arriving soon or easily accessible.... There were buses with 30 minutes interval, might as well walk back, really. So our feet were the best mode of transport considering our the time available.
Got back to our apartment for a last check on our luggage and then off we go to the train station for our final stop in Perth - Fremantle Market.
We stopped by this stretch of malls and departmental store near the station... Just to explore.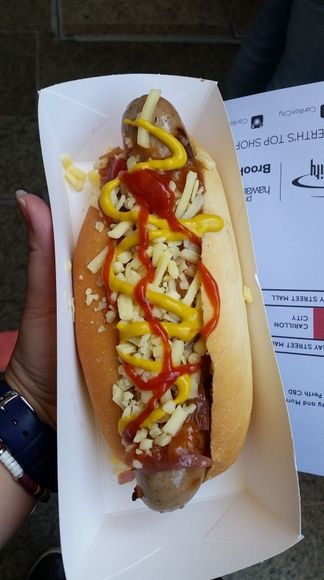 Got this and a few other random food. Lol.
This German sausage was good! So much garnish.

And sigh... this blue watch I'm wearing in this shot has spoiled. RIP my friend.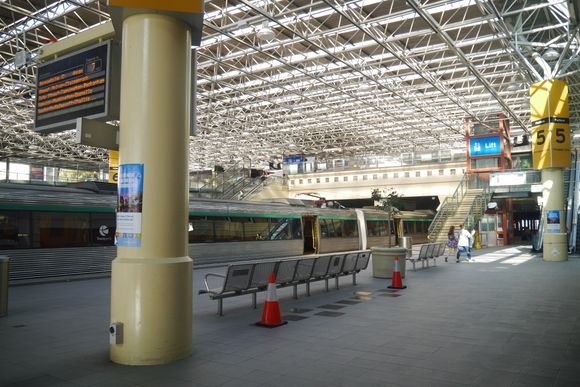 The train station!!!!
We missed one train because Haniza's transit card was low on credit and it wasn't exactly a straightforward way to top-up. She had to queue to get it done over the counter.... We just service ourselves here in Singapore with the automated machines... So advanced we are. :X To be fair, there were machines lined up outside the station la... But I guess Haniza didn't know how to work it? I couldn't help because I tapped in first. Gave her my moral support.
/bestfriendquality
LOL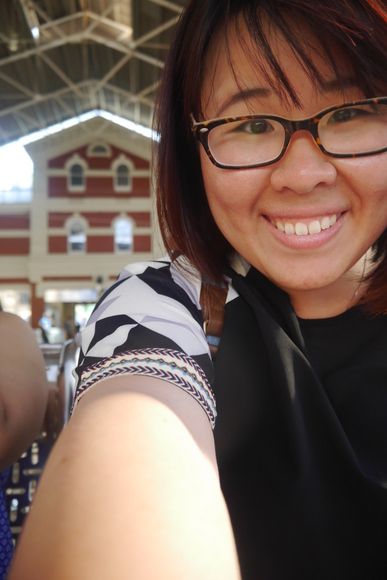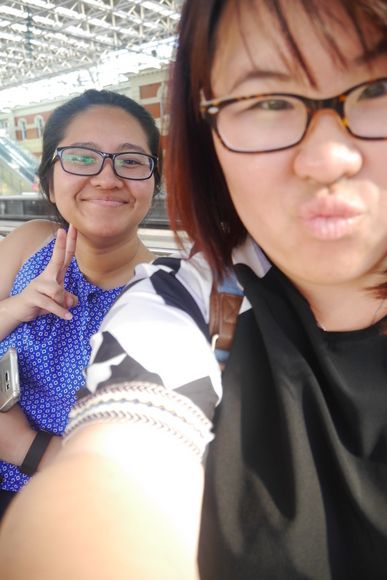 Waited about 20 minutes for the next train - feeling already exhausted from the walking around earlier...
Perth Station to Fremantle Station took about 30 minutes. We both dozed off ever so often during the ride..... It's a wonder how we managed to not miss the stop.
After alighting, it's another distance to walk from the station to Fremantle Market.
On the way, there were streets of small boutiques. I liked it... Not big big malls we have here, but individual shops all around selling a variety of stuffs.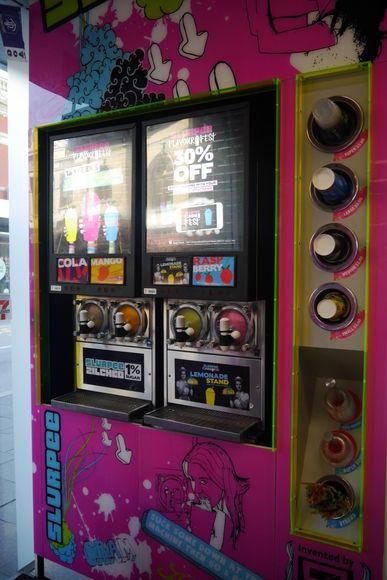 Bought a slurpee because we were thirsty and it started to feel warm.

I miss those Primary school days where these were so popular and we bought them ever so often!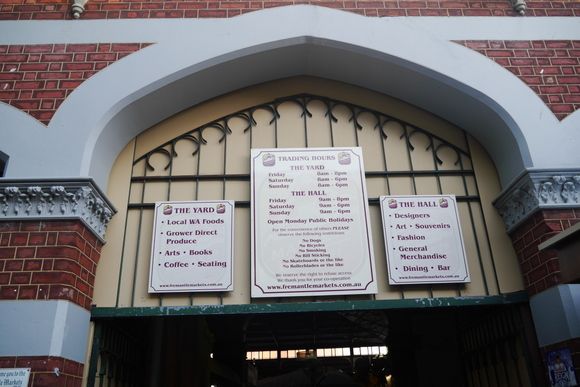 AND WE ARE HERE!!!
Slightly later than we should have arrived. :( Most of the stalls were already closing.... Bummer. But it's like a big market of food and other random stuffs. Not many nice pictures taken there because the place was not in their full fledged activity.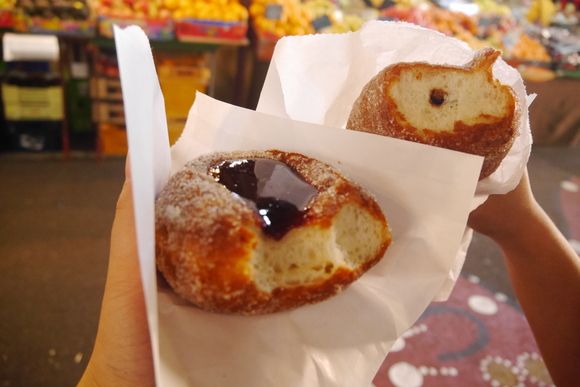 Levi's Doughnut! YUMS!
Good recommendation by Xin Hui. ♥
That's the last picture taken at Fremantle Market.... :( There after, we continued shopping and Haniza got some truffle oil, while I bought some candles and lavender pillow spray for my sister. They were not exceptionally cheap, or even cheap at all, despite being sold in a 'market'. But I suppose their 'market' is just a place with plenty of small stores mainly selling ingredients for cooking. There were also coffee beans sold! Some of them smelled so good.
After our relatively quick shopping at Fremantle Market, we proceed to find one of the recommended Fish & Chips places in town! Walked for about... 30 minutes? :)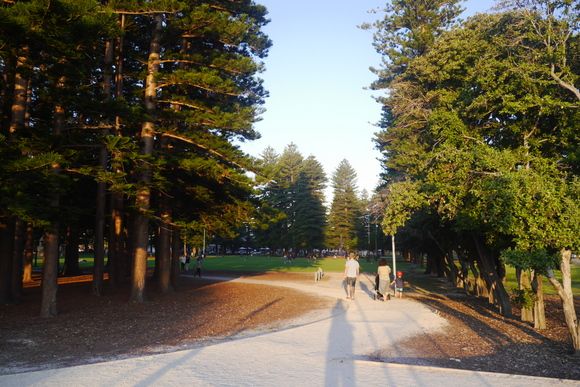 Such big beautiful trees.



Tadaaaah!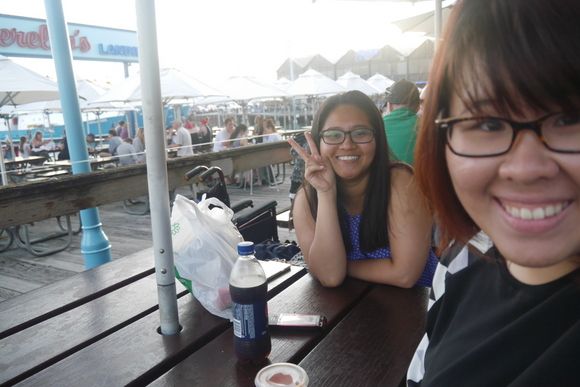 Ordered and settled outside to watch the harbor and many seagulls fly around. The weather was good to be out people watching...



Random shot of our surrounding and a lady seemingly posing for the picture. Lol.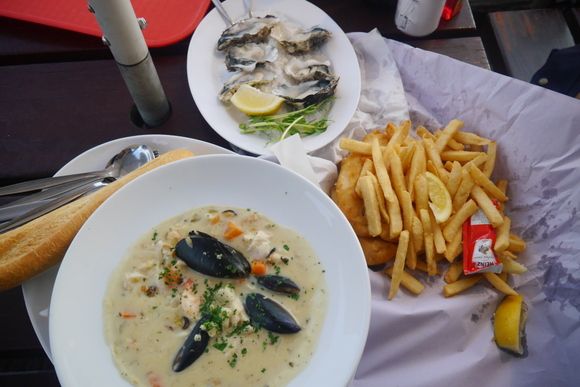 Last dinner at Western Australia! :(

I miss how we can pick the type of fish to be served for our Fish & Chips...... Not the common Dory fish served here. The seafood chowder was so good too!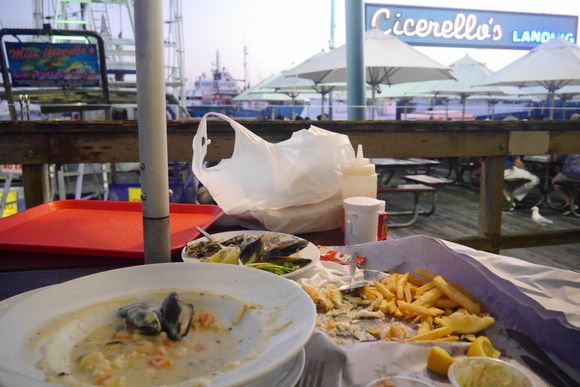 Within minutes...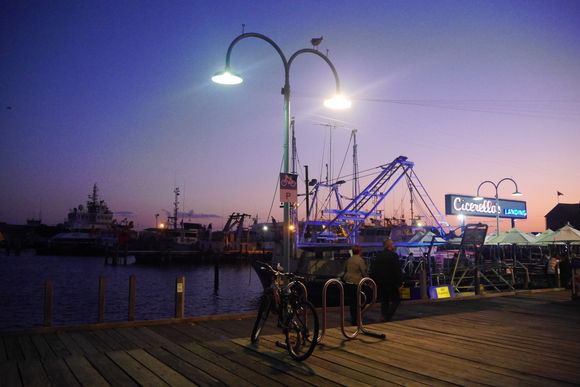 Look at the color of the sky. This is not filtered!
The layering of colors........................
I wished we actually had more time to spare in Fremantle. It looks like a town that has more to offer than just Fremantle Market and the very good Fish & Chips. I enjoyed the Fish & Chips served here than the one at Seascapes (
read here!
). There was a lot more meat in this fish and a little bit less oily than the one sold at Seascapes.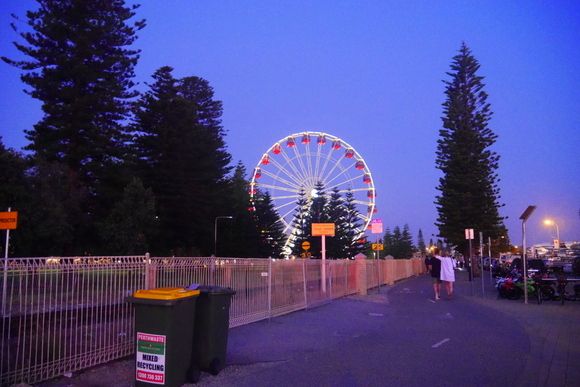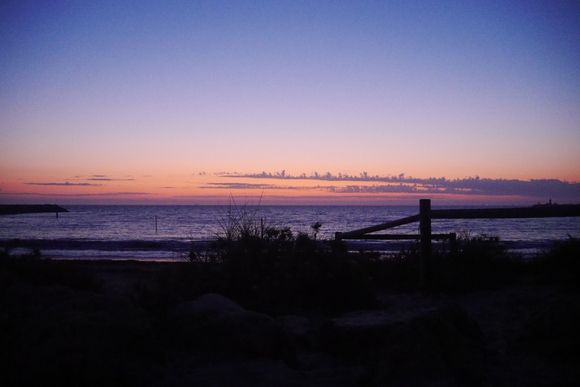 The sunset we spotted...
There was a group of tourist nearby, and we saw these group of people suddenly crowding to watch the sunset. We followed and tried to find the best spot for a picture... It was gorgeous!
And with that, I'm coming to the end of this entry.
Finally? :)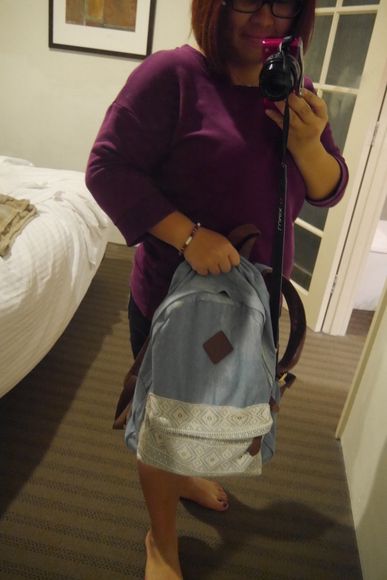 Got a new backpack from Perth too.
Changed my life because now I'm so in love with backpacks! Lol. Just dump everything and anything inside.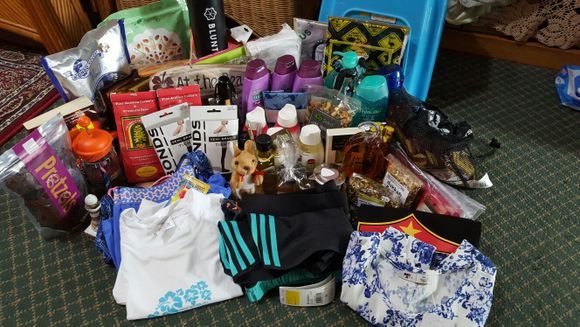 Haniza's crazy buys! Check out the bottles of soap! HAHAHAHA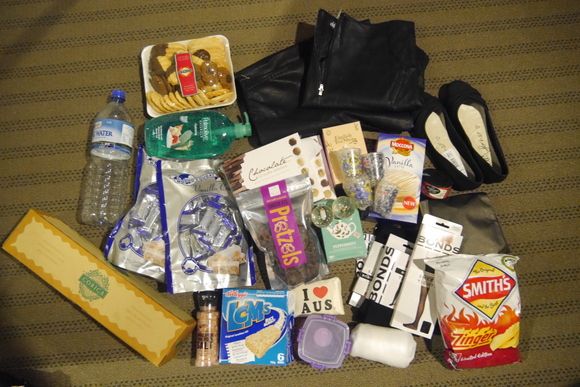 & Here are mine!
I love the shortbread so much that I didn't share it with anyone as I had intended...
I also got those pink salt because they looked so pretty. Hahaha.
ps: The bottle of water is not part of my buy home. No idea why it got captured. Lol.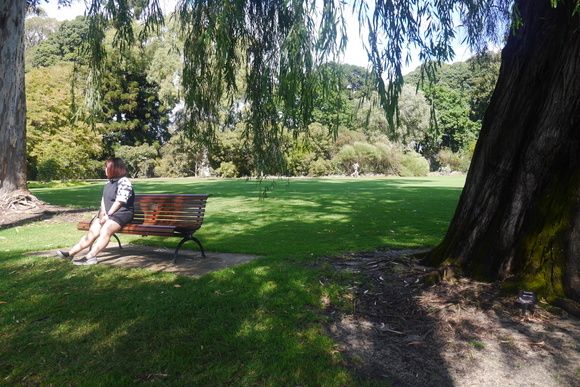 Till the next vacation entry! :)