It's a Wednesday in December........

What better way to celebrate the mid-week this festive month than an advanced Christmas party?? Also a great way to kick-start the 'freedom' in our soon-to-be quiet office. ✌️



It's starting to feel a lot like Christmas

~~ 🎄🔔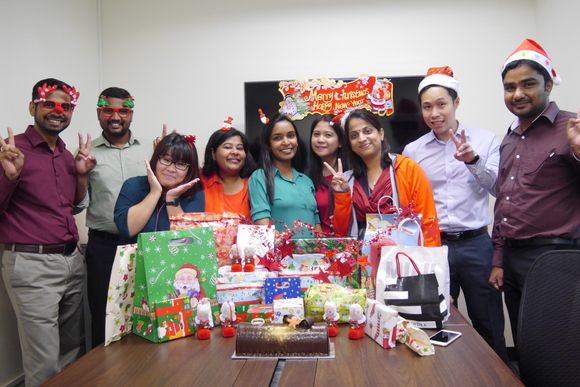 Christmas lunch with people at work!
It's only right for us to celebrate in office. We already spend more time with each other than with our own families... Life, huh. So, there's no need to spend more time together after work. LOL!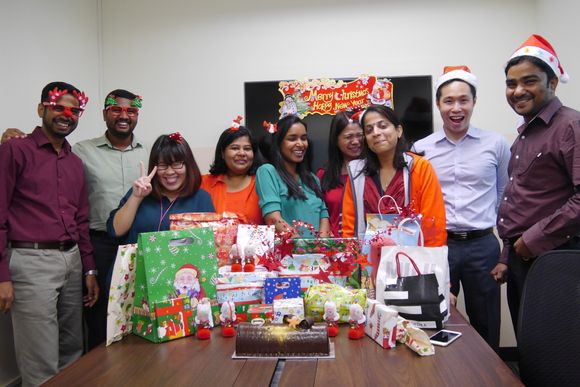 And though not obvious, we had a Red / Green theme today!
With gifts and our Christmas Icecream Cake (so good!).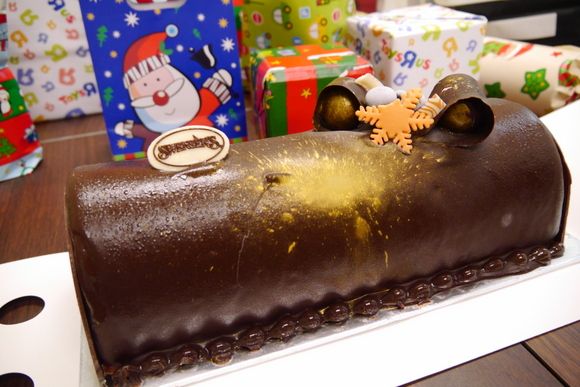 The best way to clear off a Christmas Logcake (or any cake for that matter)??
GET AN ICECREAM CAKE!! 🍦
Plenty would reject cakes when offered, but a lot less people would say 'No' to icecream! ♥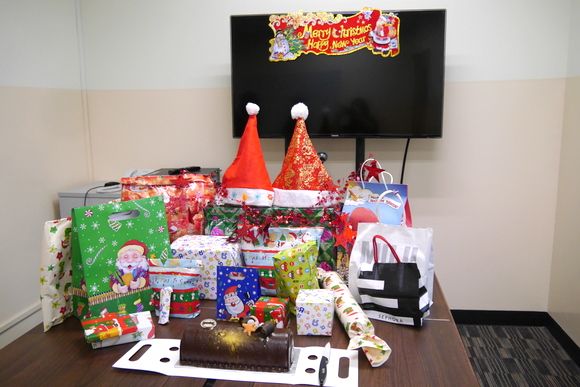 Our mini setup and all the gifts prepared!

Because it was during lunch time, a few of us headed out to Seletar Mall for some quick lunch shopping and cake collection while the rest stayed in office to put up the decorations. #Effort.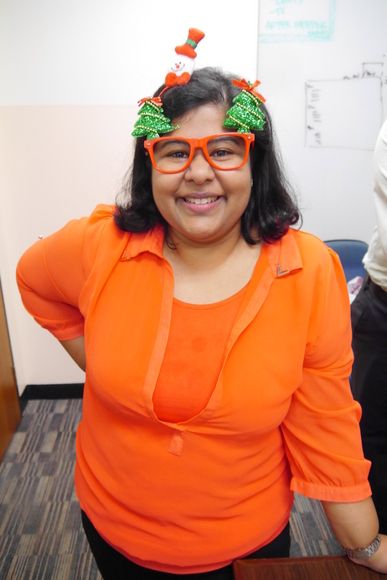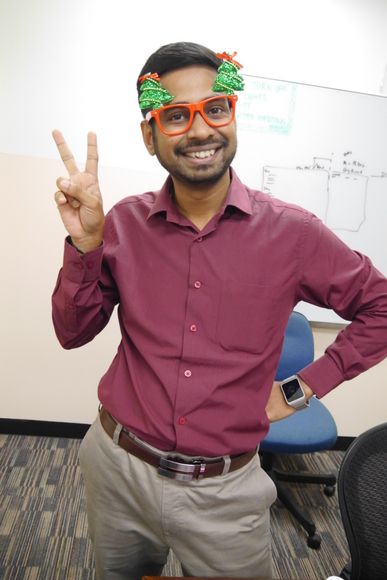 Our Christmas Tree mascots? Lol.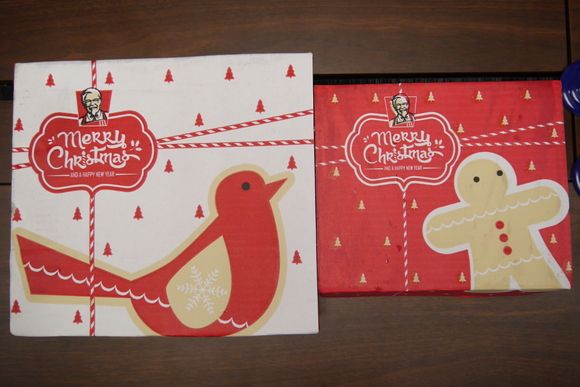 Lunch from KFC is served!
Super love their Christmas designs, by the way.

We also ordered Pizzas, but they came slightly later. Boo.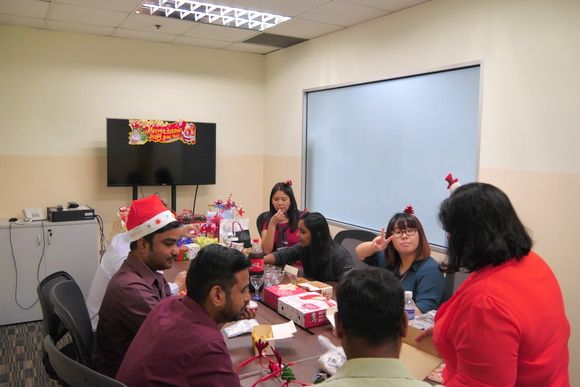 All hungry people gathered for foooood!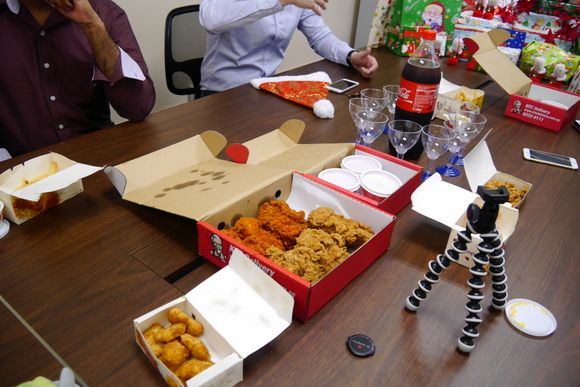 Chicken Feast!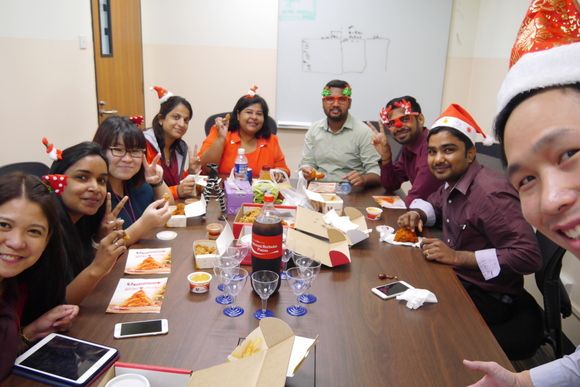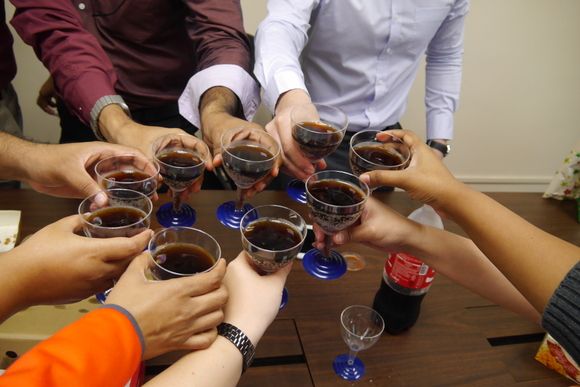 Because office hours, so coke replacing beer!
Looks like stout anyway. Heh.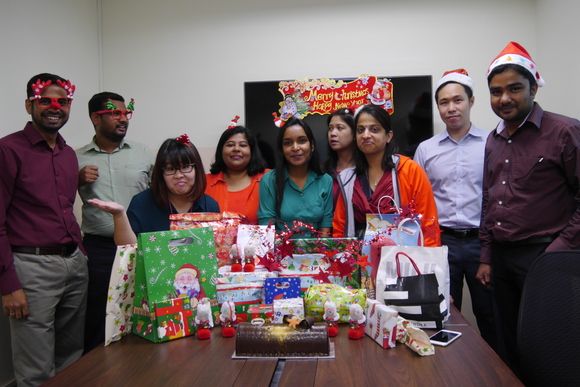 And some (many) groups shots before we proceed with the gift exchange!

Actually, we took all these before settling down for lunch.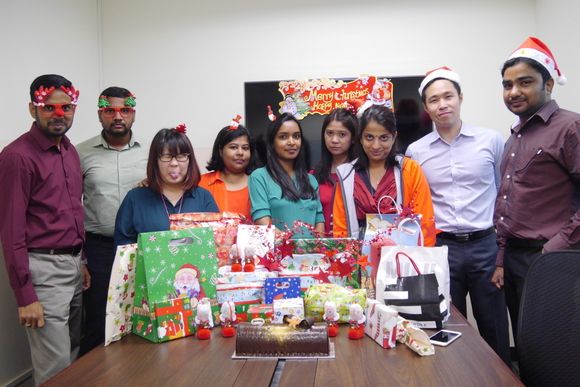 Supposedly a 'serious' shot, but I guess I missed the memo? LOL.



Moving on to the gift exchange, it was one kind I have never done before!!! It wasn't just a simple gift exchange because we started a simple game way before our celebration. Lol.

Slightly less than a month before December, someone suggested a game to play in preparation for Christmas and our gift exchange... I am so glad we did it. I don't think it is that feasible for people who are not together in the same area for a long time - Probably works best for people in the same office or friends in class!

So what we did was, all of us would pick a 'child' through drawing lots. And we become the 'mother' of the person we pick. Of course, the 'mother' is also the Santa of the 'child' and gifts would be prepared. But! The type of gifts we get would depend on how well-behaved our 'child' is.

How do we determine this?

About a week or so before our celebration, the 'mothers' would start testing their 'child' by secretly instructing them to do random things everyday. I loved what I came up with, though lame. LOL.

There were things like......
Sing someone a lullaby and put them to sleep.
Take a selfie with someone in blue.

We created a blog for us to anonymously send missions and reminders. Hahaha. There were also some people who leaves paper missions on each others' table as well - Very risky method because we had to ensure no one else saw.




Some of the 'dares' we filmed. Hahaha.




Menaka >Shruti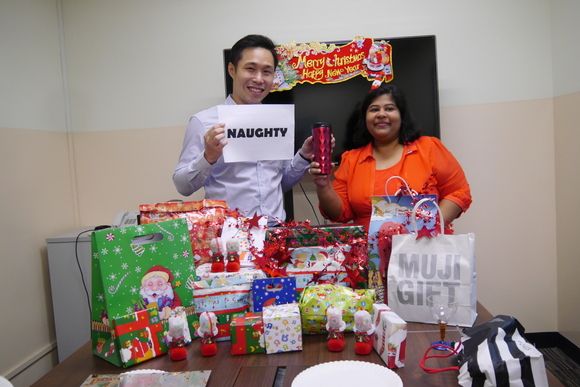 Shruti > Chee Chien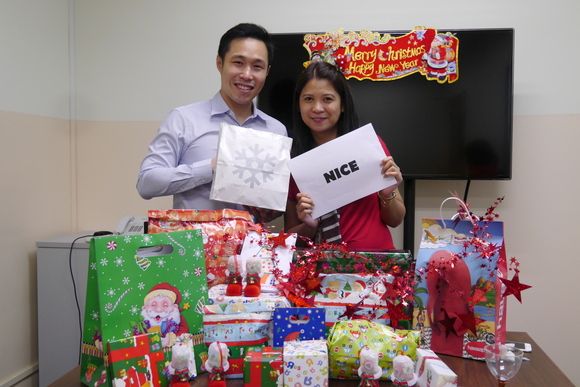 Chee Chien > Mira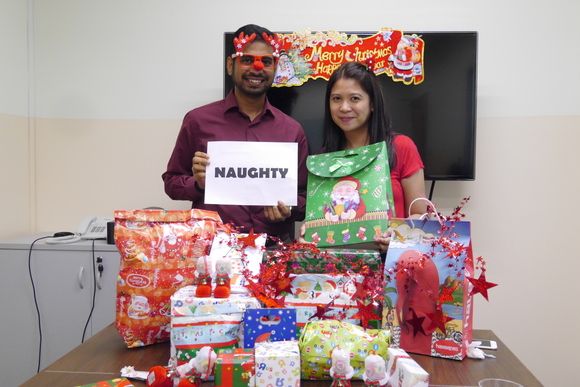 Mira > Vignesh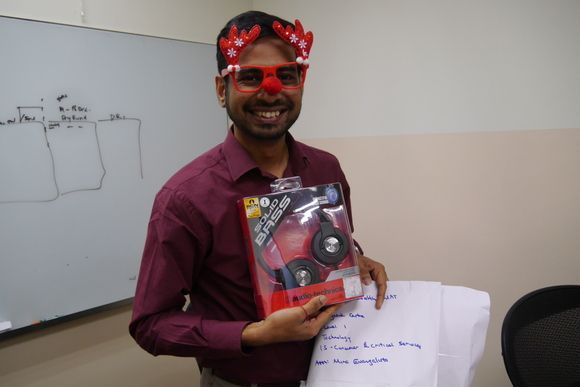 Happy kiddo with his wanted gift.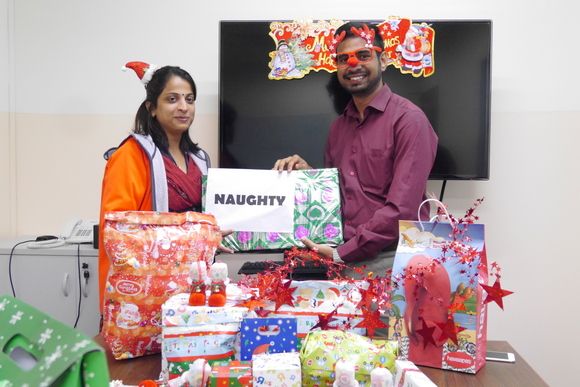 Vignesh > Menaka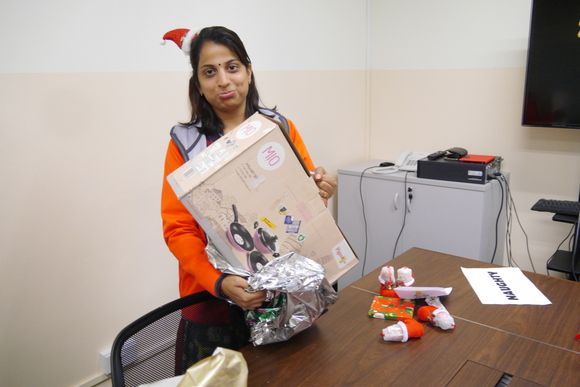 Unhappy kid with a gift she didn't want. Hahaha.
So straight forward - She immediately whined when she opened it.



I got 'Naughty' from Akila.

So.... The 'Naughty' and 'Nice'.
Naughty kids are ones who did not finish their tasks.... I DID LO. Lol. So yeah, nice kids are those who completed well.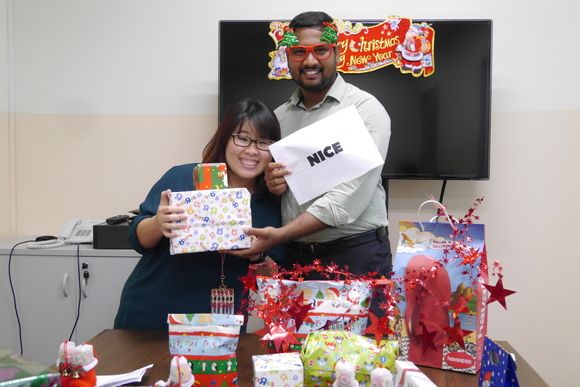 Myself > Mani

He did everything I tasked. Hahaha. There were things like announcing to everyone each time he wants to go to the washroom (for the afternoon), sing ABBA's 'Money, Money, Money' (well, because his name rhymes lol), knock on our cabinet and sing 'Do You Wanna Build A Snowman' and so on. hahaha.



And it's gift unwrapping time!!!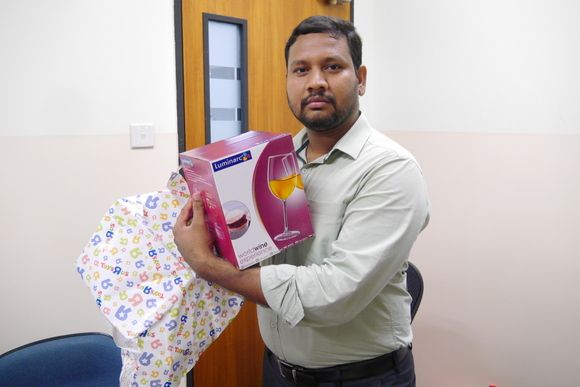 His face like that because he actually requested for badminton racquets and got these~

Of course, those were the fake gifts we swapped with Shruti because.....

I reached office slightly earlier than usual with my gift to make sure no one would see what I got. Mine was too obvious because of the size of it. :( And because I wrapped the racket and the shuttlecocks separately, I wanted to place the racket in our cabinet and display the other in our gift pile. JUST when I was struggling to keep the racket in the top rack of our cabinet (because short, so struggled), Mani CAME TO THE OFFICE!!! Totally caught myself and Menaka trying to keep the gift.

Thank god Menaka was there with me, or I would have totally been busted there and then. Hahaha. So yeah, we swapped in hope that we could trick him.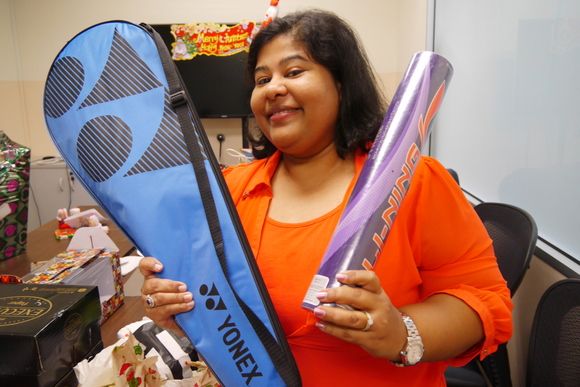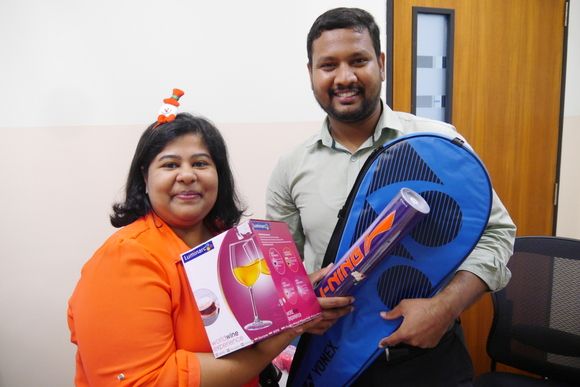 Exchanging back!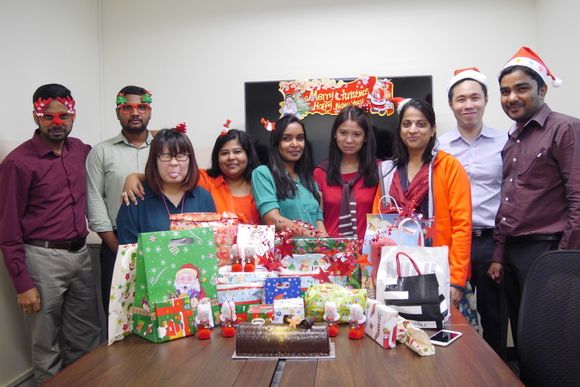 It was a really fun afternoon and I'm glad we managed to play the game. HEHE.